16 March 2006 Edition
Campaign: Discriminators to be named and shamed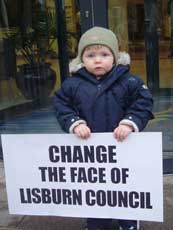 Following An Phoblacht's coverage last week of the launch of Sinn Féin's anti-discrimination campaign, Smash Discrimination Anois, ARAN FOLEY spoke this week to Caitríona Ruane MLA and Paul Butler, Sinn Féin Group Leader on Lisburn Council, about the new campaign.
Shining a spotlight on discrimination
Asked about the objectives of the Smash Discrmination Anois campaign, Caitríona Ruane says it has two core goals. The first is to name and shame particularly bad practitioners of discrimination such as the Northern Ireland Office (NIO) or Lisburn Council. Secondly it seeks to ensure that those whose responsibility it is to take action against discriminators, such as the Equality Commission, do so.
"We are saying to the North's Equality Commission you have powers under the Good Friday Agreement. Why haven't you used them? You are becoming a toothless wonder", said Ruane.
Putting into context the NIO's refusal to sanction notorious discriminatory councils such as Lisburn or Ballymoney, she said: "Historically the NIO has had a responsibility to ensure equality for people in the Six Counties and yet they are one of the worst offenders.
"What this campaign will be doing is providing support for our councillors on these discriminatory councils and highlighting the discrimination and the NIO's and Equality Commission's failure to address this. We will be mobilising to organise protests and liasing with our elected representatives for a sustained campaign. There's a lot of test cases around discrimination in religion, gender and so forth."
"Paul Butler will be asking the Equality Commission to investigate the situation with regard to Lisburn pointing out that the display of the English Queen's portrait in the chamber is in direct violation of the Good Friday Agreement"
Referring to Unionist attempts to belittle and dismiss the need for equality Ruane says: "We call for equality for all. It is in the interests of all to have a laid down equality framework. This is why the DUP are ultimately depriving their own electorate when they seek to prevent this from happening. Sinn Féin's position is that discrimination is discrimination no matter who it is practiced against and we will fight it tooth and nail"
Sinn Féin has raised the issue with the Irish government and called on the SDLP to support the campaign. "I would like to see the SDLP join with us in opposing discrimination. I would hope that their recent voting record on Irish unity, where SDLP members opposed a Sinn Féin motion on Irish unity at Limavady council, does not indicate the path that they will follow", Ruane said.
"We want an Ireland of equals. There is a reluctance amongst some parties North and South to work with us to this end. They are afraid of us. They know we are the party of change while many of them prefer the status quo.
"As well as political discrimination, other areas we are heavily involved in include mental health discrimination and the appalling discrimination against migrant workers. These are areas of concern both North and South and highlight the need for all Ireland strategies to address them.
"Positive movement on discrimination will benefit every one on this island North, South, East or West", she said.
Indicating some of the problems with Lisburn Council Paul Butler said: "Nationalist rate payers to Lisburn council in areas like Twinbrook and New Lodge are being discriminated against. Their elected representatives are denied permission to speak and excluded from committees while, loyalists are elected to same. We will be putting the cat amongst the pigeons by demanding the equality commission instigate an investigation"
Lisburn Council has been actively discriminating in the areas of allocation of council positions, provision of play spaces, civil partnership legislation and the Flags and Emblems Act. It is one of the worst discriminators in the Six Counties. Pointing out that Lisburn Council was officially twinned with Kildare County council Butler says: "We will be asking Kildare County Council whether it thinks it is appropriate that they are twinned with such an active discriminator. We will be putting pressure on them to address this issue in various different ways. Indeed all councils twinned with notorious discriminators such as Lisburn and Ballymoney will be approached. People in the South may think that the Good Friday Agreement put paid to a lot of these issues. Unfortunately that is not the case. The Agreement is not being implemented."
Although Butler welcomes support from any quarter he feels that the SDLP's record on this issue speaks for itself. "They sat on discriminating councils for 30 years and never kicked up a fuss. They preferred to take the crumbs from the table as a reward for their meekness. In fact they often colluded with unionist attempts to isolate Sinn Féin"
In relation to the failure of the North's Equality Commission to take any meaningful action Butler suggests: "It could be to do with the nature of the appointments to that body. There seems to be a reluctance to take any action that would go against the prevailing political culture here.