16 March 2006 Edition
Remembering the Past
BY SHANE Mac THOMÁIS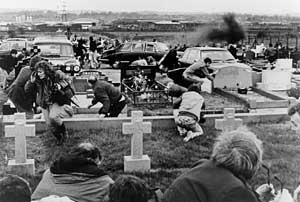 Gibraltar Three funerals ambushed
On Monday 14 March 1988, the bodies of IRA Volunteers,Mairéad Farrell,Seán Savage and Dan McCann arrived in Dublin to begin their journey to Belfast. The Volunteers' families were there to claim their remains. Thousands of people lined the route of the funeral cortege - all the way from Dublin to Belfast.
As the procession crossed the border, the RUC tried several times to delay it. They ordered that the national flag draping each coffin be removed. RUC Land Rovers then closed in on each hearse, following close behind the vehicles. At several points they actually struck the hearses.
Loyalist mobs had also lined the route, ready to shout abuse and throw missiles at the bereaved. On arrival in Belfast, a senior RUC man was seen spitting on the hearse carrying the body of Volunteer Dan McCann to his Cavendish Street home.
On 14 March, as he was preparing to launch an attack on crown forces intimidating mourners outside the Turf Lodge home of Séan Savage, IRA Volunteer Kevin McCracken was shot in the back by a British soldier. McCracken had been an H-Block Blanketman, and was a dedicated republican. He died before an ambulance arrived.
By the time the funeral cortege reached Milltown cemetery in West Belfast, there appeared to be no crown forces about at all - with the exception of two British Army helicopters overhead.
When the coffins of McCann, Farrell and Savage were lowered into the ground, a respectful hush descended on the assembled crowd. That was when unionist paramilitary launched an ambush on mourners.
Wearing a cap, dark jacket and jeans, UDA man Michael Stone stood up from behind a headstone some 50 yards from the gravesites and lobbed a grenade into the mourners. It landed just 20 yards from the republican plot and exploded, injuring several people.
The crowd was unsure what was happening at first. There was confusion and screams as the injured fell. People scattered in panic and dropped to the ground for cover as stewards desperately appealed for calm. Some lay over others, using their bodies to offer protection from the onslaught. Everyone was looking around, trying to ascertain where the attack was coming from, what was happening.
Stone reached into a pouch around his waist and pulled out more grenades. As he continued to throw the devices, many in the crowd began to pursue him in a courageous attempt to disarm him. Stone was undoubtedly surprised by this. He pulled out a pistol and opened fire, while still throwing the grenades, but those rushing to confront him pulled back only momentarily and then surged forward again.
Stone continued to retreat towards the M1 motorway at the bottom of Milltown, throwing grenades and firing shots as he went. Those who were chasing him gave no thought for their own safety. They simply wanted to stop him before he hurt anyone else. Their bravery was exceptional.
As the crowd followed Stone towards the motorway, many then noticed a white van parked on the hard shoulder. Stone made his way towards it, but it suddenly sped away.
Stone then tried to stop several vehicles at gunpoint to make his escape, but he was unsuccessful and republicans finally reached him. He was knocked to the ground and apprehended as he tossed his final grenade. It was only then that the RUC arrived and intervened, threatening the crowd with plastic bullet guns in order to pull Stone away from them.
Later, Stone would claim that his gun had jammed and his accomplices had "fucked off and left me". He then decided to retract that remark, and instead claimed he had acted alone.
In the end, three people died, and a further 60 were injured by shrapnel or gunshot wounds. Among them was a 10-year-old boy who had been shot in the back as he tried to take cover, a grandmother with wounds to her stomach, and a pregnant mother of four. But had it not been for the courageous actions of those who pursued Stone that day, the toll would have been much higher.
The three men killed by Stone were Thomas McErlean, John Murray and IRA Volunteer Caoimhín Mac Brádaigh.
A reporter from the Irish Times, who had been in attendance that day, said of their actions: "This was not simply bravery; this was a heroism which in other circumstances I have no doubt would have won the highest military decorations."
There was never any inquest into the deaths of McErlean, Murray or Mac Brádaigh. In fact, the mother of 20-year-old Thomas McErlean was told quite bluntly by the RUC that there wouldn't be one.
Three days later the funeral of IRA Volunteer Kevin McCracken had been allowed to proceed unmolested. But the peace was to be short-lived.
Shortly after noon on 19 March the funeral cortege Of Caoimhín Mac Brádaigh left St. Agnes' Chapel to walk the short distance to Milltown cemetery. Suddenly, an unmarked car carrying two men dressed in civilian clothing drove at speed into the funeral procession. It appeared to be another loyalist attack. As mourners surrounded the car, one of the car's occupants brandished a handgun and fired a shot. The two men were captured and disarmed by members of the crowd. The assailants were identified as undercover British soldiers and executed by the IRA.
It was the culmination of a traumatic period in the life of West Belfast and indeed republican Ireland, which began with the summary executions of the three Volunteers in Gibraltar.
Mairéad Farrell, Seán Savage and Dan McCann, lie in the Republican Plot at Milltown cemetery, alongside their comrades Volunteers Kevin McCracken and Caoimhín Mac Brádaigh.
An Phoblacht Magazine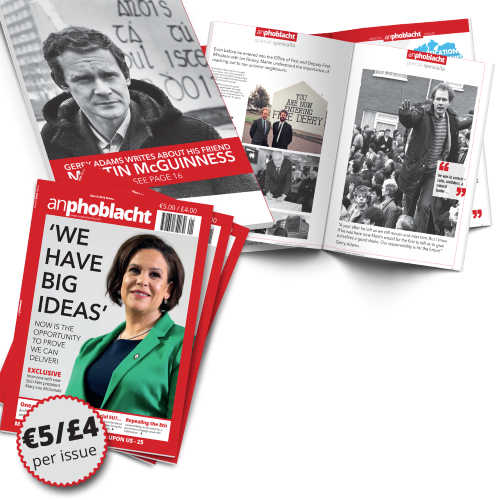 AN PHOBLACHT MAGAZINE:
The first edition of this new magazine will feature a 10 page special on the life and legacy of our leader Martin McGuinness to mark the first anniversary of his untimely passing.
It will include a personal reminiscence by Gerry Adams and contributions from the McGuinness family.
There will also be an exclusive interview with our new Uachtarán Mary Lou McDonald.
test