16 March 2006 Edition
Dúirt Siad...
"Tom Murphy is not a criminal, he is a good republican." Sinn Féin President Gerry Adams criticising a campaign by large sections of the media to demonise Tom Murphy in their coverage of PSNI and Garda raids along the South Armagh/Louth border last week.
"The reason why I was raided is because I was a republican." Former Trade Union leader and Sinn Féin Vice President Phil Flynn on TV 3's The Political Party last Sunday, where he accused 26 County Justice Minister Michael McDowell of conducting a concerted media campaign to criminalise him.
"Initially I thought the target was Bertie Ahern, because a lot of the stories would drag Bertie into them. I think the real target, I'm convinced, was Gerry Adams. The strategy is criminalise me, connect me with Gerry Adams." Phil Flynn, TV3, Sunday 12 March.
"The issue of collusion and the RIR will not go away. The victims of this paramilitary force will be disgusted with this pay of". Sinn Féin Fermanagh/ South Tyrone MP Michelle Gildernew on the British government's payoff to members of the Ulster Defence Regiment/Royal Irish Regiment, which was announced last week.
"Michael McDowell's approach to his ministry has been a triumph of perception over reality. It has become far less important that justice be done than that justice be seen to be done. His real skill has been an ability to present himself as plausible on telivision and radio, which has left him with little time for legislating." Michael Clifford, The Sunday Tribune, 12 March.
"The events of 1916 revealed the true nature of Britain's relationship with Ireland and inspired subject peoples everywhere." Tom McGurk, The Sunday Business Post, 12 March.
"The imperial myth that might was right was destoyed forever in the Irish imagination." Tom McGurk on the legacy of the 1916 Rising.
An Phoblacht Magazine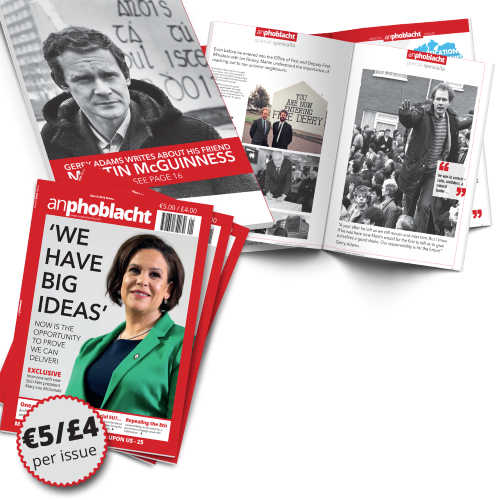 AN PHOBLACHT MAGAZINE:
The first edition of this new magazine will feature a 10 page special on the life and legacy of our leader Martin McGuinness to mark the first anniversary of his untimely passing.
It will include a personal reminiscence by Gerry Adams and contributions from the McGuinness family.
There will also be an exclusive interview with our new Uachtarán Mary Lou McDonald.
test