16 March 2006 Edition
Dismantle the police state
Political policing has been a central element of the conflict in Ireland. The RUC, a partisan, unionist militia was a key party to the conflict, responsible for many of the casualties. At least 1,500 people have been killed by unionist paramilitaries organised, directed and armed by the RUC and British military intelligence. No RUC member has ever been brought to justice for these murders.
Dozens of people have been assassinated in RUC and British Army shoot-to-kill incidents. Families seeking the truth about the killings have been obstructed at inquest hearings by the PSNI Chief Constable, who has refused to hand over information.
Members of RUC Special Branch transferred en bloc into the PSNI on its formation in 2001. Many of them remain in the PSNI today. In 2002, the PSNI Special Branch collapsed the Six County power-sharing Executive. At the centre of that conspiracy was a PSNI Special Branch agent, Denis Donaldson.
Listening devices and bugs have been found in the homes of Sinn Féin members, Sinn Féin offices and in the car used by the Sinn Féin President Gerry Adams. Telephone calls between Sinn Féin's Chief Negotiator Martin McGuinness and Tony Blair's Office and the British Secretary of State were tapped by the RUC and PSNI and leaked to elements within the media.
Spy cameras and surveillance devices have been trained on Catholic Churches and GAA clubs, and the homes of nationalist families.
Secret files have been compiled and kept by the PSNI on thousands of nationalists. Many such files have been passed to unionist death squads.
The sectarian policing of Orange marches through nationalist areas shows the role of PSNI District Commanders in political policing. These events contrast with the passive PSNI response to loyalist road blocks in support of such marches.
The mindset which governs policing in the Six Counties is one which remains at war with Irish nationalists. Political policing within the PSNI aims to prevent change in policing, restoration of the power-sharing Executive, the implementation of the Good Friday Agreement and stability in the Peace Process.
Political policing is now central to the strategy of the securocrats to copper-fasten British direct-rule in Ireland. For there to be a new political beginning with equality and human rights at its heart, political policing must be confronted head-on exposed and ultimately dismantled. Policing and justice powers must be transferred from faceless British securocrats, to a locally elected Assembly.
An Phoblacht Magazine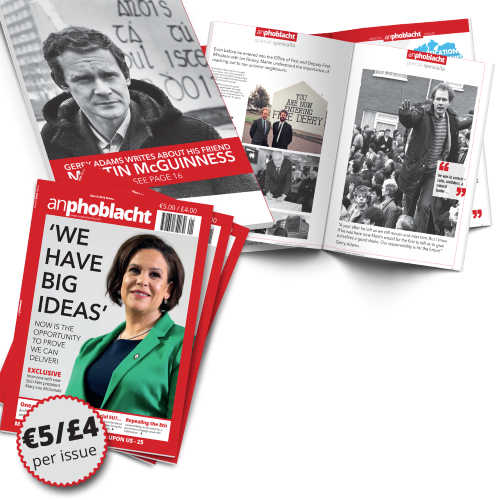 AN PHOBLACHT MAGAZINE:
The first edition of this new magazine will feature a 10 page special on the life and legacy of our leader Martin McGuinness to mark the first anniversary of his untimely passing.
It will include a personal reminiscence by Gerry Adams and contributions from the McGuinness family.
There will also be an exclusive interview with our new Uachtarán Mary Lou McDonald.
test