9 March 2006 Edition
Smash discrimination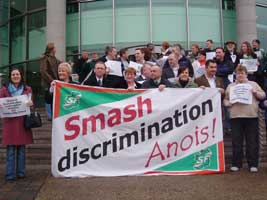 Sinn Féin has outlined plans for an anti-discrimination campaign 'smash discrimination anois', to expose discrimination wherever it exists and publicly called on the Equality Commission to investigate Lisburn Council. Sinn Féin Human Rights and Equality Spokesperson Caitriona Ruane MLA, said the party is determined to bring a new focus to the battle against discrimination.
"Despite many laws to protect people, the reality is that many people still face discrimination in their daily lives. Whether it is discrimination because of political opinion or religious belief, disability, sex or race, it is wrong. It is illegal.", she said.
"Sinn Féin is determined to challenge, confront and expose discrimination wherever it exists. We will focus on any local council, government department or agency, employer or any other type of organisation that discriminates against groups or individuals.
"This means that we will bring our campaign to local councils like Lisburn that continue to discriminate; to government departments like the NIO and agencies like Invest NI that continue to discriminate in terms of both employment and policy decisions", said Ruane.
"We will use any method at our disposal to expose and confront discriminators. We will take our campaign onto the streets and use both the Equality and Human Rights Commissions and the range of anti-discrimination legislation that exists to demand an end to discrimination."
The party has called on the North's Equality Commission to initiate a full investigation of Lisburn Council which has become a byword for discrimination and bigotry.
Sinn Féin Lisburn Council group leader Councillor Paul Butler said this week that Lisburn has an appalling record of discrimination against anyone who does not fit into the council's narrow-minded view of the world.
"Unionist control of Lisburn Council has been one of dominance, where minorities have been excluded. Lisburn is not a 'city for everyone'' but a city of exclusion and intolerance. It is the, Sectarian Capital of the North", he said.
"Sinn Féin have repeatedly challenged unionists on Lisburn Council to share power on the basis of equality with nationalists. At every opportunity, unionists have made the choice to discriminate, not just against nationalists but also against many other groups and individuals", said Butler.
In five areas Lisburn council has failed to deal with discrimination, including:
Allocation of council positions
Irish Language
Provision of play spaces
Rights under civil partnership legislation
Flags and Emblems