9 March 2006 Edition
Dúirt Siad...
There is a new reality in the North. The IRA is no longer the problem. The Provisional movement has delivered what was asked of it. But the problem now - and the SDLP and Sinn Féin are unusually of the same mind on this - is the DUP and its intransigence. - Irish Examiner Political Editor Harry McGee, on how the British proposal for a shadow executive will solve nothing.
I did refer to Mrs Thatcher as callous and I still think that she was callous. - Síle de Valera TD, 26-County Minister of State at the Department of Education and Science, speaking about the period of the 1981 Hunger Strike on TV3's The Political Party last Sunday.
You would have to admire anyone who has such a strong view as to go on Hunger Strike and to see that through. - Síle de Valera on Bobby Sands.
It could have been prevented very easily. - Síle de Valera on the 1981 Huger Strike.
These remarks are rich coming from a man who has refused to distance himself from those who are suspected of carrying out the bombings as named by [Justice] Henry barron. - Margaret Urwin of Justice for the Forgotten on comments by FAIR's Willie Frazer after he claimed campaigners and relatives for the victims of of the 1974 Dublin and Monaghan bombings to distance themselves from republicans.
Under apartheid, the black man was better paid, they had better jobs, better everything. - Jim Dixon of the FAIR organisation which organised the protest in Dublin which was the spark for riots in the capital.
Its wrong that blacks are coming to Ireland. - Jim Dixon of FAIR.
I trained him in the wiles of making up stories but he got carried away and started making up pictures. - Former Sun editor Kelvin McKenzie on Piers Morgan, sacked as Daily Mirror editor for his front-page faked photos in 2004 of British Army brutality in Iraq, justifying the belief that the Sun's in-house motto is: "Make it snappy, make it up."
An Phoblacht Magazine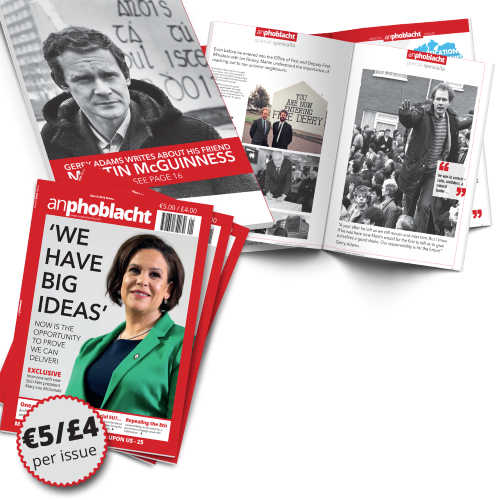 AN PHOBLACHT MAGAZINE:
The first edition of this new magazine will feature a 10 page special on the life and legacy of our leader Martin McGuinness to mark the first anniversary of his untimely passing.
It will include a personal reminiscence by Gerry Adams and contributions from the McGuinness family.
There will also be an exclusive interview with our new Uachtarán Mary Lou McDonald.
test