9 March 2006 Edition
Fifth Column
UDA in the frame
The unionist daily News Letter reported that the 17 heads in the UDA/UFF bar-room brigade lifted by a PSNI SWAT team during a CS gas attack on The Alexandra Bar in Tiger's Bay last Thursday night were "acting on intelligence that a 'show of strength' was taking place in the bar".
One of the UDA suspects dragged out of the bar and spread-eagled against the wall was over 80-years-old and using a zimmer frame.
The Boys of the Really Old Brigade?
It's a gas
Apologies to the PSNI. We did say "CS gas" when we should have given it its correct name "CS spray". Just like an under-arm deodorant, or an air freshener. Do you miss that unmistakable whiff of CS gas? Do you go all misty-eyed at memories of the Falls Road Curfew?
Maybe the PSNI could run TV ads like: "For the man in your life going places, shower him with CS Spray. Blended with that special smell of RUC feet, to create that uniquely inviting temptation into the back of a Land Rover. Inspired by CIA, captured by PSNI."
Gets right up my nose.
Junior whinge of the UDA
Ian Paisley Junior used the PSNI raid on the alleged UDA meeting to demand that President Mary McAleese and her husband end "all further contact" with the UDA leadership.
UDA heads, including Ihab Shoukri, have met President McAleese's husband, Martin, a number of times, including in South Belfast last month.
The Boy Paisley said of President McAleese: "She has chosen to associate with people whose backgrounds can only be described as extremely dubious."
But not dubious enough for Paisley Junior and Jeffrey Donaldson to practice what they preach by leaving the North and West Belfast Parades Forum and the Love Ulster bandwagon, where they happily rub shoulders with UDA leaders like South Belfast 'Brigadier' Jackie McDonald.
Paisley daily
The News Letter trumpeted on Friday its best circulation figures for eight years.
To illustrate its achievement of an average week-day circulation of 28,600, editors ran three of its top front pages. George Best's funeral was naturally one, and the Six-County soccer side's 1-0 World Cup victory over England was another. But pride of place went to Ian Paisley's election victory and DUP rout of the UUP, with the banner headline "BIG PARTY" - the oldest of the three front pages but obviously the dearest to the editor's heart as it is being offered by The News Letter's marketing department in a regular display ad under the title: "Limited Edition DUP 'Big Party' Prints."
Impartial?
SDLP folds
The News Letter's Paisleyite, partisan politics haven't stopped the SDLP standing idly by and allowing unionists to discriminate against the nationalist, fledgling Daily Ireland newspaper in favour of the DUP tub-thumping daily.
SDLP members on Belfast City Council sat on their hands while unionist councillors from the UUP, DUP and Alliance rejected a motion to include the new nationalist daily in its list of approved papers to get council advertising.
The decision now means that only The Belfast Telegraph, The News Letter, The Daily Mirror and The Irish News can publish council legal notices in respect of applications for licences and permits.
Thirteen Sinn Féin councillors voted to have Daily Ireland on the list, while 20 unionist and Alliance Party councillors voted no.
Five SDLP councillors abstained, including North Belfast Councillors Pat Convery, Alban Maginness and Cathal Mullaghan.
The SDLP Deputy Lord Mayor of Belfast, North Belfast, Councillor Pat Convery, who spoiled his vote, said the decision not to vote was made by the SDLP group before they went into the council's chamber based, on circulation figures.
The lady's left gasping
The Ulster Unionist Party's most fragrant MP (alright, their only MP), Lady Sylvia Hermon, has been left gasping after being told that officials in the Northern Ireland Office spent £30,000 on bottled water for themselves last year.
The North Down MP squeezed the figures out of the NIO in a parliamentary written question. She was trying to find out how much the NIO had spent on training for local authorities and the Peelers on Anti-Social Behaviour Orders. That was £7,000 compared to the £30,000 for NIO mandarins' bottled water.
The cost comes to about £80 a day and Sylvie says if the bill for all departments was added up it would be "a staggering amount of money".
Sylvie spluttered: "Someone from the NIO needs to explain why they have spent such a huge amount of public money on what is really a luxury item. It is bottled water; it is not tap water."
Will the NIO lose its bottle?
Holy war
Newstalk 106 radio in Dublin announced on Sunday: "The Archbishop of Canterbury has launched an attack on the US detention centre at Guantanamo Bay."
Sounds like he must have been using his canons.
Boom, boom!
An Phoblacht Magazine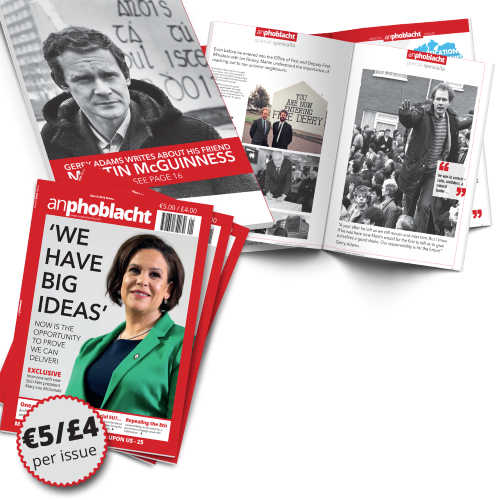 AN PHOBLACHT MAGAZINE:
The first edition of this new magazine will feature a 10 page special on the life and legacy of our leader Martin McGuinness to mark the first anniversary of his untimely passing.
It will include a personal reminiscence by Gerry Adams and contributions from the McGuinness family.
There will also be an exclusive interview with our new Uachtarán Mary Lou McDonald.
test