9 March 2006 Edition
The Matt Treacy Column
No love lost in Parnell clash
In Kavanaghs after the match last Saturday, we were trying to recall when was the last time that an inter-county team had managed to go a full half of a match without scoring. This in a non-patronising, non-triumphalist way of course. Later I was reminded that Dublin had accomplished a similar feat two years ago against Mayo in Castlebar. Pays not to be too condescending you see.
At one stage last Saturday Dublin led Offaly by 1- 9 to 0 - 0. Indeed Offaly did not score until after 52 minutes, when a Tommy Deehan point was greeted with one of the biggest cheers of a frosty night. I thought he looked embarrassed. He needn't have been, as the closing minutes deposited the rosy glow of shame firmly on Dublin cheeks.
Darren Magee, who had an otherwise excellent night at midfield, caught a ball that appeared to be going wide and somehow contrived to fall in such a fashion as to deposit it the Dublin goal. That was grand. A minute later a Ciaran McManus pile driver beat Cluxton. People stopped heading for the exits. Before even that was properly digested, Offaly had another goal and all the worst and most impossible Dublin defeats came flooding back. It was not to be and they survived by two points.
As James Joyce's father would have said, Dublin are as unpredictable as a baby's bottom.
Dublin and Offaly have had a long and close relationship over the years. Long and close as the affinity between the Bloods and the Crips. Or the Borgias and the Medicis. Indeed that analogy was sometimes apt, especially in the days when nothing gave either more pleasure than beating the living daylights out of the other. Winning the match was a bonus.
The rivalry really only goes back to the late 1950s when Offaly began to pose a threat to Dublin in Leinster. The Dubs held the upper hand until about 1965, after which they were paid back in their own coin and from speaking to participants in later encounters of the '60s and early '70s, great delight was taken in the midlands at the redirection of the worm.
Things changed again in 1974 when Dublin beat the greater part of the Offaly team that had won the All Ireland in 1971 and 1972 and were chasing their fourth Leinster title in a row. History, indeed, might have been different had not Leslie Deegan kicked over a difficult point late in the '74 Leinster semi-final.
Dublin went on to win six Leinsters, culminating in the famous victory of 1979 after Jimmy Keaveney was sent off and Bernard Brogan scored the winning goal as the seconds ticked away. That gave rise to the best known song of that era. The one Ciara learned when she was three, in the way a Neolithic child might have been taught the chant about the time they ate the sabre tooth tiger.
"For Dubs will never falter, and Dubs will never yield,
As long as there's a man to kick the ball upon the field."
And so forth. I promise to provide the full thing if you promise to be good. Or better still a free CD with the Wolfe Tones original version as part of some competition. Mind you the same Ciara has often quoted those very words to me, as we have slunk away from various humiliations. Curse that child for her irony.
Once upon a time I was in Tullamore watching the two chums doing battle. The Offaly woman behind us took particular exception to Bobby Doyle. I think it's a hair thing actually, because Mark Vaughan seems to have attracted similar opprobrium particularly from midlands folk. Where Mark favours the unkempt Mugsy peroxoide, Bobby sported long flowing curly locks and side burns. Each in his own way the country man's living nightmare of the Dublin gurrier. The sort of fellow who'd arrive back in your digs with a parcel of stout to sing Luke Kelly songs at four o'clock in the morning. And try it on with your sister, the nurse.
Anyway your woman kept up a persistent, not to say disturbing, catterwauling that consisted of a repetition of the plaintive cry, directed towards Doyle, of "Break that fucker's legs." Well as the man said, they'd have had to catch him first. After a spell of this my Da got annoyed and politely asked the woman to desist given the presence of sensitive young children. And myself and Jimmy.
In fairness she listened quietly and took the Da's advice on board. Silence for maybe a minute then the wailing recommenced. "Will one of youse break that fecker's legs." The Under 12s accompanied by adults version.
So it was that there was little if any sympathy on display in Parnell last weekend for the Faithful chaps. We might fear but respect Meath. We just hate that crowd, and it's mutual. Don't be waiting for the sympathy cards now.
An Phoblacht Magazine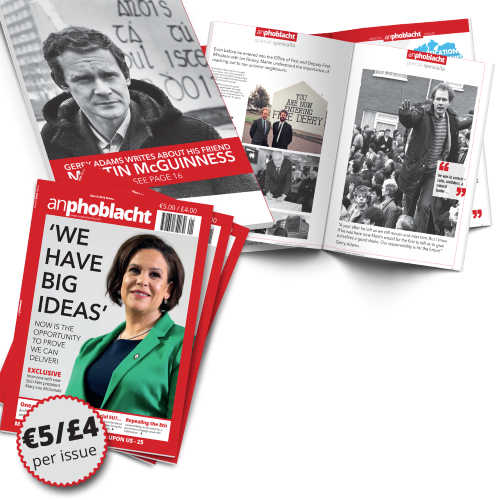 AN PHOBLACHT MAGAZINE:
The first edition of this new magazine will feature a 10 page special on the life and legacy of our leader Martin McGuinness to mark the first anniversary of his untimely passing.
It will include a personal reminiscence by Gerry Adams and contributions from the McGuinness family.
There will also be an exclusive interview with our new Uachtarán Mary Lou McDonald.
test