9 March 2006 Edition
Action demanded on Atlantic Corridor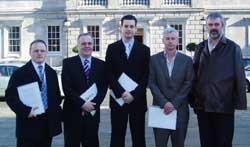 A Sinn Féín delegation met Dublin Transport officials on 28 February, to discuss the crucial area of infrastructure development required to meet the needs of the Western Seaboard or Atlantic Corridor.
The delegation included Sinn Féin West Tyrone MLA , Barry McElduff, Foyle MLA, Raymond McCartney, Dublin South West TD Sean Crowe, incoming All Ireland Co-ordinator Sean Oliver, and County Councillors Pearse Doherty (Donegal) and Gerry Murray (Mayo). Barry McElduff said the meeting represented the unique All Ireland dimension which Sinn Féin brings in outlining its vision for transport and infrastructure development.
"The situation facing socially and economically peripheral regions such as rural Donegal, West Tyrone, Fermanagh, Sligo, Leitrim, Cavan and Monaghan, demand action. Sinn Féin wants to see a modern integrated transport system that can meet the needs of these communities.