9 March 2006 Edition
Unionism: Time for republicans to reach out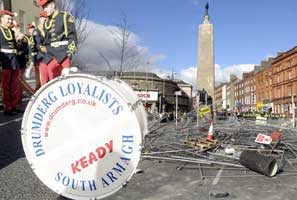 A radical engagement
BY MARTINA ANDERSON
The basic premise of republicanism is the equality and dignity of humanity. It is, therefore, of special importance that Irish republicans find a way to engage with those who either do not understand or share our political vision or our project.
Irish Republicans can proceed into that engagement confident that we can win the argument with the ideology of reaction, discrimination and partition.
That engagement needs to take place right across this island but in particular with that community which identifies itself as Unionist in the North.
Gerry Adams's recent address to the party Ard Fhéis set out the five principle strategic challenges for Sinn Féin- to re-establish the institutions of the Good Friday Agreement, to deliver on the All-Ireland Agenda of an Ireland of Equals, to build Sinn Féin as a party, to build support for Irish unity in Britain and to develop an entirely new relationship with unionism here in Ireland.
Two of these five strategic challenges directly relate to the process of engaging with Unionists and it can be argued that all five are interdependent with that engagement.
The events around the Love Ulster parade in Dublin have, unfortunately, repeated the process of failure in terms of engagement. This in no way helped the achievement of Irish republican objectives.
Account has to be taken of a possible undercurrent which triggered a reaction on the day. It is very difficult to ensure that political logic will always override anti-state instincts, especially from working class communities which have not reaped the benefits of the Celtic Tiger.
This was undoutedly compounded by the reality that the group which proposed to march through Dublin city was associated for many with the most virulent anti-Catholic elements within Unionism, including loyalist paramilitaries.
There is also the case that the march was seen by many Dubliners as no more than a straighforward Orange march, supported by those who have marched with the Orange Order through besieged nationalist areas in various parts of the North, against the wishes of the residents.
Add to all this the fact that the marchers proposed to carry placards bearing the names of those who many belive were responsible for the loyalist bombing of Dublin in 1974, and we can appreciate its full provocative nature.
Nevertheless it's understandable why even a extreme brand of unionism would look to the South of Ireland given that the broader political equilibrium, the broader politics in Ireland, has shifted from little Belfast to All Ireland.
Most Irish Protestants weren't always loyalists or unionists. Indeed, there are a growing number today who are active proponents of republicanism and of Irish unity. We need to recognise that political Unionism sought to develop a hegemonic culture to reinforce partition. A hegemony which was expressed through the Ulster Unionist party and organised through the Orange Order and the Six County militias.
However, unionism was never in the best interests of a large proportion of northern Protestants. Indeed, the history of Irish republicanism is replete with stories of Radical Protestants.
This is not unnatural. The Protestant reformation was a progressive event in world history. It came off the back of the renaissance, itself the result of the rational influence of Islamic culture on Europe. Protestantism was an attempt to challenge the corruption of medieval Roman Catholicism- a corruption that would make today's gossip columns of clerical misbehaviour seem trifling. The Protestant reformation opened the door to republicanism.
The process of creating an Irish nation needs a dialogue, reflected in political structures. It needs a process whereby the vision of peace between green and orange cements a new state. Republicans need also to engage with unionism, including both political and civic, to find a way to accommodate our differing traditions and cultures.
Radical republicans have a great deal to gain from such an engagement. Protestants in Ireland represent a huge reserve to challenge inequality and corruption on both sides of the border.
The massive gains to be made from the growth and development of the all-Ireland economy will resonate strongly with a population suffering from the restructuring (and contraction) of the Six County Civil Service.
The logic of economics will feed into a new political dispensation resulting inevitably in political union. A growing number within the northern Protestant community already recognise this fact.
Engagement with northern Unionism presents us with a mechanism to accelerate that process of change and also to construct the foundations for that future all-Ireland republic to be rights-based, equitable and participative.
An Phoblacht Magazine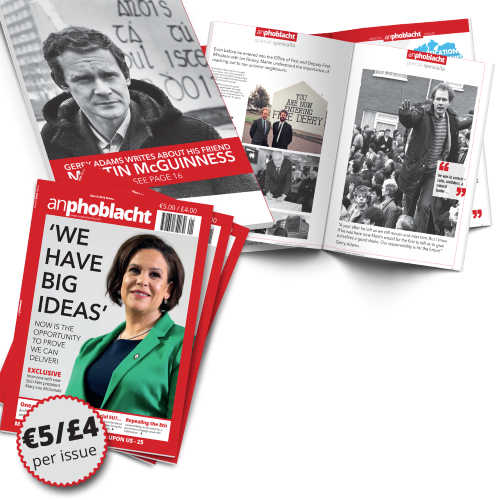 AN PHOBLACHT MAGAZINE:
The first edition of this new magazine will feature a 10 page special on the life and legacy of our leader Martin McGuinness to mark the first anniversary of his untimely passing.
It will include a personal reminiscence by Gerry Adams and contributions from the McGuinness family.
There will also be an exclusive interview with our new Uachtarán Mary Lou McDonald.
test