9 March 2006 Edition
Governments need to act decisively
The stated objective of the current political talks involving the Irish and British governments and all parties in the Six Counties, is to get the political institutions, established under Good Friday Agreement, up and running as quickly as possible. This is the position of the Irish and British governments, Sinn Féin and all of the other parties, with the exception of Ian Paisley's DUP.
The governments have an opportunity now to move decisively to advance the political process. The time for stalling, assessing, pussy footing and stock taking is over.
The views of the various parties to the process are well established and widely known. Interim measures such as a shadow Assembly for the Six Counties are utterly pointless and would merely postpone real decision making.
The crucial decisions that will shape the political future need to be taken now. The Sinn Féin President Gerry Adams this week called on both governments to meet with all of the political parties and set out a timetable for the restoration of the Assembly and the Executive. This should happen in the coming months, in advance of the start of the loyalist marching season.
While the DUP should be given the opportunity to join with others in a power sharing government, their obstructionism and corrosively negative influence on the entire process should be decisively brought to an end.
If Ian Paisley attempts to maintain his stranglehold over political progress by refusing to work with other parties, both governments should call a halt to the entire political circus and shut down the Assembly.
It is imperative however, that in taking this course of action, both governments, quickly take up their responsibilities and implement fully all the outstanding aspects of the Good Friday Agreement for which they have direct responsibility. The all-Ireland areas of joint responsibility and the number of Implementation Bodies should be expanded.
The political reality is that the current talks process is going nowhere. The cancellation of Tony Blair's recently scheduled speech on the North and the postponement of talks at Stormont is evidence of this. Both governments have a responsibility to ensure that the process of political change is moved ahead. It is now time that they took the lead.
An Phoblacht Magazine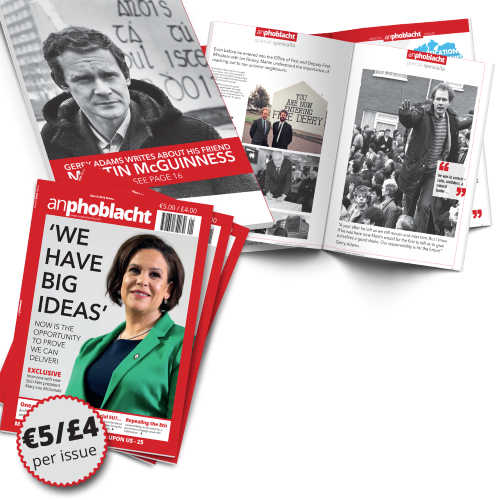 AN PHOBLACHT MAGAZINE:
The first edition of this new magazine will feature a 10 page special on the life and legacy of our leader Martin McGuinness to mark the first anniversary of his untimely passing.
It will include a personal reminiscence by Gerry Adams and contributions from the McGuinness family.
There will also be an exclusive interview with our new Uachtarán Mary Lou McDonald.
test