2 March 2006 Edition
Left Republican Review Returns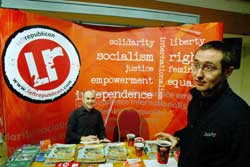 Left Republican Review is back after several years in abeyance. During the past year the magazine's editorial board has developed a business plan to transform the publication into a commercially viable, not for profit enterprise.
A new publishing company, Left Republican, based in North Belfast aims to publish six editions of Left Republican Review and two books each year.
The books will be produced in conjunction with Pluto Press in London, the first being Denis O'Hearn's biography of Bobby Sands, Nothing but an Unfinished Song, to be launched in Belfast on 9 March 9th at 7pm in St Marys College, and in Dublin on 10 March at 7pm in the Padraig Pearse Centre, Pearse Street. Additional launches take place in Drogheda, Dundalk, Derry and Mid Ulster.
Editor Eoin O Broin says Left Republican Review is an independent political platform bringing together left, republican, feminist and green voices from across Ireland in a spirit of open dialogue. "We aim to provide a space for all shades of progressive opinion in Ireland and to provoke discussion on political, economic, strategic and organisational issues," said O Broin.
"Left Republican Review wants to create a real debate between supporters and activists within Sinn Féin, the Green Party and the Labour Party, as well as that broader radical constituency of individuals and organisations across the country. We will be a campaigning publication for Irish independence, for equality at home and abroad, for social and economic justice and political and cultural freedom. We will provide a space for all those voices who are ignored or marginalised by mainstream media and intellectual debate," he said.
The magazine is more analytical than reportage but produced in an accessible form.
It has a strong commitment to internationalism, and includes commentators and articles from all quarters of the globe.
The current edition has a distinctively international focus, with articles examining the recent electoral contests in Bolivia and Palestine, a series of detailed analyses of the WTO trade talks which took place in Hong Kong last year and articles on the EU arms trade and developing world debt. Also reproduced is the Daithí Forde Memorial Lecture by Sinn Féin's Martina Anderson, on the legacy and life of Liam Mellows and an interview with Noam Chomsky on the conflict in Iraq.
It is aimed to relaunch Left Republican Review in March.
According to O Broin, one of the distinctive features of the magazine is its focus on securing subscribers. It formally launched a subscription campaign in Belfast on 27 February. "A small niche publication such as ours will find it very hard to survive if people don't subscribe. We have produced a very attractive subscription package, which includes six magazines and 2 books per year for £30/€40. For those who subscribe before 30 April we have a number of surprise gifts." Left Republican Review has set itself a target of 1,000 subscribers for its subscription campaign.
Another Ireland is Possible, will be the title of the redesigned relaunch edition of Left Republican Review out in March.