2 March 2006 Edition
Labour's concern on bank profits too late
BY ROBBIE SMYTH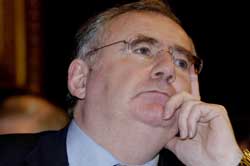 As Allied Irish Bank (AIB) profits rose 23% to a record €1.7 billion for 2005, it seems that the Irish banking sector, already the most profitable in Europe, is set for another bumper year. In the coming weeks the other big four- Bank of Ireland, Ulster Bank, National Irish and Irish Permanent and Life are set to report their earnings for 2005 and there are no indications that any of these financiers will be running reduced profits.
Despite having to set aside €50 million for it's overcharging of foreign exchange business, the bank was still able to earn record profits. AIB's business grew in all of its divisions, but half of its profits are earned in Ireland.
For example AIB's loans business, which covers personal loans and mortgages as well as lending to business, grew by 28%. Its credit card division also grew, substantially driven by higher consumer spending.
Now with record profits Irish banks could at least release their ordinary customers from charges such as those levied for withdrawals, processing cheques, using ATMs, standing orders, direct debits, bank drafts etc. They could also easily absorb the annual tax levied on holders of credit, laser and ATM card. Banking should be free for all non-business customers.
Perhaps the most inconsistent reaction to the AIB profits came from Labour leader Pat Rabbitte, who described the banking sector as lacking in competitiveness. He seems to have forgotten his time in the Rainbow Government and the now forgotten Labour Party policy, never implemented, for a third banking force that would be state owned. Then in the early 1990s the plan was to link up the industrial and agricultural banks ICC and ACC with the banking and branch networks of An Post and possibly the Trustee Savings Bank.
In government the then Democratic Left and Labour parties forgot about the third banking force as ICC, ACC and the TSB were sold off while the government began the slow dilution of the An Post branch network, all of which only Sinn Féin opposed.
Now Rabbitte is proposing new taxes for the banking sector. What other Sinn Féin policies will he be pilfering next?