2 March 2006 Edition
Eircom sale: Feeble regulators, government hand wringing
BY ROBBIE SMYTH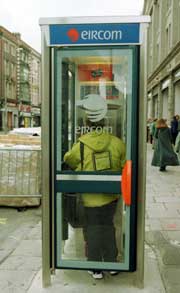 Eircom - demands mount for return to public ownership
For sale Eircom, a former national asset, but now one directionless phone company, which comes with feeble regulators and a compliant national government prone only to occasional hand wringing. This model has as standard easy access to asset stripping and a low debt burden more than capable of being ramped up by a billion euro or two.
Yes Eircom, the once state owned fixed line, mobile phone and internet company is for sale again. Having being passed over by Swisscom in late 2005 after the Swiss government intervened to halt that potential sale, enter Australian bidders venture capitalists Babcock and Brown (B&B), who this week have built up a stake of more than 20% in Eircom.
The B&B strategy is quite simple. They are aiming to buy Eircom shares relatively cheaply on the hunch that there are few, if any, other telecom related bidders out there. A telecommunications firm like Swisscom would be adding Eircom to its business as a badly run asset in need of substantial investment. However competitive pressures in the international communications markets and careless previous owners who have run down Eircom without developing a long term strategic plan for the firm have put off such investors.
Venture capitalists
Enter the venture capitalists who will vacuum up shares by offering bids slightly above the market price. After gaining control of the firm B&B will pay for the buyout by making Eircom turn Babcock's initial investment into company debt.
This was the same tactic used by the Tony O'Reilly-led Valentia consortium who bought Eircom in 2003 and then used their control of the company to take out loans covering the initial buyout costs. In the intervening period the shareholders then paid themselves a €400 million dividend, before bringing the firm back onto the stock market and selling it again, recouping their initial investment as Eircom's debt burden was now carrying the costs.
Eircom's debt now stands at approximately €2 billion, the B&B strategy would, according to media estimates, add at least another €1.5 billion in debt.
Babock and Brown are themselves no strangers to controversy and big executive payouts. Last year the firm gave €165 million in bonus payments to its executives. The bonuses took up 44% of the firm's net profits for the year.
Eircom is a firm in need of a substantial investment itself and another billion euro plus in debt will only give the firm even less room to roll out the much needed reinvestment in its network. At present Eircom is committed to invest €200 million annually in its network over the next five years.
Broadband failures
This is much needed as the 26-County communications infrastructure is falling further behind our EU partners. Last week an EU Commission report ranked the state 19th out of the 25 EU members for broadband availability. At the same time the company is being obliged, because of EU directives on competition, to open its network to competitors. The endless media advertisements for Smartcom, Magnet and others shows just how competitive this market is becoming. For now Eircom's strategy has been to frustrate access to its network by bogging competitors in disputes with Comreg, the communications regulator, while running its own mass advertising campaign for broadband customers.
Eircom's broadband penetration is growing, but at a serious cost to the firm, while it is not investing in rolling out broadband and other new technologies especially in rural and less populated areas.
Falling profits
In fact, the most dynamic part of Eircom is its newly acquired Meteor mobile phone service, which added 100,000 subscribers to the network in the last three months of 2005. Despite this Eircom's profit in the last quarter fell 21% to €56 billion compared to the same period in 2004. The overall lack of strategy in Eircom is shown by the fact that the firm had a mobile arm up until 2001 sold it only to buy Meteor in 2005.
In 1999 when Eircom was first privatised Sinn Féin was one of the lone political voices opposing the sell off. In the intervening years there has been a growth in the number of politicians opposed to the privatisation and concerned at the lack of a cohesive strategy for the firm that plays a vital role in Irish telecommunications infrastructure.
This week Fianna Fáil TD and Chair of the Leinster House Oireachtas Committee on Communications Noel O'Flynn added his voice to those calling for a return of Eircom to state ownership.
However it's a case of deaf ears as neither the coalition government nor even Eircom management itself have the long term vision needed to run this firm. What's the betting the state will have to bail out an indebted, failing Eircom in the next ten years?
Eircom Chronology
July 1999 Eircom floats on the Irish stock exchange. Over 500,000 small investors take up the offer of shares, most lose money as the share price falls from its launch high.
2001 Eircell, the mobile phone arm of Eircom is sold to Vodafone in a share swap. Investors now have Eircom and Vodafone shares
2002 to 2003 A bidding war breaks out between two rival consortia for Eircom, eventually won by Tony O'Reilly's Valentia consortium. The 500,000 shareholders now have only Vodafone shares and most cash these in at a loss on the initial 1999 investment.
2004 Eircom returns to the stock market
2005 Swisscom purchase of Eircom blocked. Eircom buys Meteor for €420 million
2006 Babcock and Brown buy 20% of Eircom