2 March 2006 Edition
Dublin Riot: Questions for Gardaí, City Council and McDowell
BY Aran Foley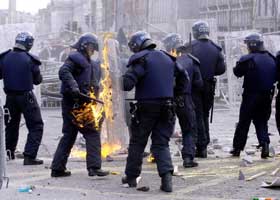 No justification for Dublin violence - Adams
A 'Love Ulster' march organised by the controversial unionist group FAIR in Dublin was abandoned following the eruption of serious rioting in the city centre last Saturday.
The 'Love Ulster' march had been condemned by relatives of the Dublin/Monaghan bomb victims, following revelations that the organisers intended to carry pictures commemorating one of those implicated in the bombings - Robert McConnell.
Major contributory factors to the riot included the Gardaí's lack of preparedness and the failure of the City Council to secure building works on O'Connell street that were later used as a source of projectiles by the rioters.
Some commentators, including former Green Party MEP Patrica McKenna. have suggested that Justice Minister McDowell may have wanted a riot to occur in furtherance of his anti-republican agenda. The Garda Representative Association has said there were not enough officers present to combat the rioters.
Sinn Féin had asked all of it's members and supporters to stay away from the march. On Friday last Sinn Féin TD Seán Crowe issued a statement urging, "All Dublin people to ignore what will clearly be a provocative and sectarian march on the streets of our capital tomorrow afternoon. This march has nothing to do with supporting victims of the conflict and everything to do with promoting sectarianism. Willie Frazier is bringing his group here to stir up a negative reaction and I would hope that the people of Dublin will send him home disappointed."
Loyalists gathered at Parnell Square for 12.30pm while a counter demonstration assembled at the corner of O'Connell street and Parnell Street. This group of protestors, who had remained peaceful, was quickly swelled by groups of men emerging from local pubs, many of them the worse for alchohol consumption and including a soccer hooligan element. The march was prevented from proceeding after an outbreak of stone and bottle throwing turned into rioting. The loyalists were then bussed to Leinster House in order to meet Justice Minister Michael McDowell. Outside the Gresham Hotel rioters, standing on storage bins, rained down a barrage of missiles at Gardaí. More storage bins from the back of public houses were dragged out and their contents, mostly bottles, inflicted a number of injuries amongst Garda ranks. This easy availability of projectiles was a strong factor in fuelling the riots and the rioters had more missiles than they could hurl.
Rioters smashed windows throughout the city centre including at a McDonald's restaurant on O'Connell Street. A Locker Room sports store was also looted.
It is suspected that from a relatively early stage a criminal element attached themselves to the riot. Father Peter McVerry has also suggested that hatred of the Gardaí in the north inner city was an additional factor. Tensions have been high in the area since the death of Terence Wheelock in Garda custody last year. Many local people believe he was murdered.
The rioting continued for two hours, spreading across town as rioters headed for Leinster House where the loyalists conducted an impromptu parade on Kildare Street. By 2pm huge pillars of smoke spiralled above the city centre. Cars around Trinity College were set ablaze and mounted police were deployed outside the Dáil.
In the immediate aftermath of the riots some politicians and media outlets attempted to apportion blame to republicans and said that Sinn Féin was involved in the riots. However, these claims were quickly dismissed by eye-witnesses, Gardai and other journalists.
Sinn Féin President Gerry Adams denouced the behavour of the rioters, some of whom flaunted the Tricolour, but many of whom were a clearly drunken loutish element. Adams said: "There is no justification for what happened this afternoon in Dublin. Sinn Féin had appealed to people to ignore this loyalist parade and not to be provoked by it. Our view was that it should not be opposed in any way and we made that clear. Regrettably a small, unrepresentative group, chose to ignore our appeal. Their actions were entirely wrong and reprehensible."
Despite the riots and destruction in the city centre, and the sectarian reputation of the march organisers, Justice Minister Michael McDowell received a delegation of march organisers at Government Buildings. This is despite refusing to meet victims of Unionist and British state violence in Leinster House on two occasions last year.
The political fallout from the Dublin riots has played into the hands of rejectionist unionists who have claimed that unionists, and even Protestants, are not welcome in the 26 Counties; that the riot is a strong argument against the viability of a united Ireland and that nationalists are sectarian. Wille Frazier has even tried to blame the riots on the Irish President Mary McAleese.
Many republicans, incensed at the political stupidity of the riots, and the attempt by some to hijack and abuse the name of republicanism, believe that Willie Frazier went home from Dublin on Saturday a happy man.
Willie Frazier, FAIR and Love Ulster
Love Ulster has been associated with unionist paramilitaries from its inception last year. In a recreation of the UVF's larne gun running, UDA men and other loyalists assisted in the landing of a special edition of the Shankill News from a boat in Larne last summer which marked the launch of 'Love Ulster'.
Many commentators have said that some of Willie Frazier's South Armagh victims were joint members of the RUC or UDR and unionist paramilitaries.
Robert McConnell whose picture was to be carried on the Dublin march has been implicated in some of the most gruesome killings of the conflict including the bomb atrocities in Dublin and Monaghan in 1974. Willie Frazier of the unionist Families Acting For Innocent Relatives (FAIR) said of him. "Bobby was a great fella, he wasn't into anything bad, he helped the SAS and stuff like that."
Of the LVF chief Billy Wright, Frazier has said "I respected him, he called a spade a spade."