23 February 2006 Edition
Sinn Féin Ard Fheis 2006 IN BRIEF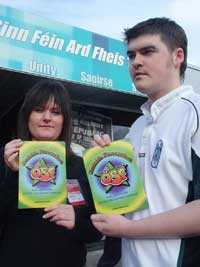 Youth
Eugene Darby of Ógra called on Sinn Féin to recognise the importance of promoting the involvement of young people within the party, pointing out that young people have had a key role in the struggle throughout the party's 100-year history.
The majority of men and women of 1916 had been young people. In 1969 young people in the Fianna had fought and died in the struggle.
As republican mark the 25th anniversary of the Hunger Strikes, they should also remember that all but one of the ten Hunger Strikers had been of Ógra age. "Ogra keeps that flame burning," said Darby.
Mickey Bravendar said Sinn Féin needed to ensure young people were given leadership positions. The Ard Fheis endorsed a motion recognising the importance of young people and calling on every Comhairle Ceantair to create a youth department tied into existing Ógra structures.
An Phoblacht
An Phoblacht Editor Seán Mac Brádaigh told the Ard Fheis that the paper should be at the forefront of the struggle but the staff couldn't do it alone. "It's in your hands," said Seán.
The recent re-launch and re-organisation at the paper had already seen progress but further success depended on greater development of sales and distribution.
Mac Brádaigh rejected a call for reintroducing Republican News as part of the paper's title and pointed out that An Phoblacht translated as "The Republic" making any such move redundant.
He also said that by using Sinn Féin's name on the front page, the party paper was tapping into a strong and growing brand and playing to its strengths.
Acknowledging the work of former Editor Martin Spain, Mac Brádaigh also paid tribute to former editor Brian Campbell, who died suddenly last year.
Ulster's nine counties
A spirited argument in support of the implementation of new Cuige structures to create a new provincial nine-county Ulster cuige ensured support from the Ard Fheis. Mike Quinn said nine counties made geographical, political and developmental sense.