23 February 2006 Edition
Sinn Féin Ard Fheis 2006 GENDER EQUALITY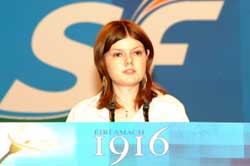 Removing obstacles to full participation of women
Addressing the Ard Fheis Eibhlin Glenhomes, the party's Equality Co-ordinator said women were no more nor no less capable than men and Sinn Féin would continue to use affirmative action as a means of ensuring gender equality.
Sinn Féin was determined to remove the obstacles to full female participation, including lack of childcare and stereotyping. It would not be a case of building an Ireland of equals but no women need apply.
Gender equality was neither contentious nor tokenistic. Women were not selected as candidates or for any other positions simply because they were women but because they were capable and doing a tremendous job, she said.
Pauline Humphries said that on joining Sinn Féin she had received a warm welcome and encouragement. The last meeting she had attended there had been 50% women representation and party's officer board was 50-50. "The sky hasn't fallen in," she said.
Pauline paid tribute to her male comrades in their encouragement and support and especially to those who had stood aside in the interest of gender equality. "Without women we are flying with one wing," she said.
Jane Martins pointed out that the EU adopted gender equality legislation as long ago as 1957. Sinn Féin must have female representation at all levels of the party and it's a goal the party can realistically achieve.
Kathleen Funchion said the party should be a microcosm of society and to achieve gender equality Sinn Féin should engage in recruitment drives to recruit women. "We need to be serious," she said.