23 February 2006 Edition
Sinn Féin Ard Fheis 2006 ENVIRONMENT
BY ROBBIE SMYTH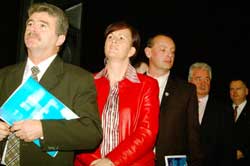 Call for unity against new government bill
Bin charges dominate environment debate
Louth TD Arthur Morgan opened the Environment section of the Ard Fheis where delegates discussed motions on incineration, services charges, transport, local government and energy.
Morgan told the delegates that there was a need to unite against the newly-launched strategic infrastructure bill launched by the Fianna Fáil/Progressive Democrat Coalition last week. The bill will seriously weaken already diluted local government planning powers.
An Ard Chomhairle amendment to motion 98 from the Cathal Brugha Cumann, Waterford was also moved by Morgan who said: "This amendment is a re-assertion of the position adopted at last years Ard Fheis. This re-statement of the policy adopted last year sets out the new context in which the campaign against the bin charges must be fought. It makes clear that local councillors no longer have the power to abolish bin charges, that these charges are imposed by central government in conjunction with city and county managers. It reiterates our determination to oppose bin charges and take that campaign to those who have the power to remove the charges. Let there be no misunderstanding - this amendment does not advocate that Sinn Féin councillors should vote in favour of estimates."
Motion 98 which mandates the Ard Chomhairle to "initiate disciplinary measures against any councillor who votes for estimates which include service charges" was supported by Waterford Councillors David Cullinane and Joe Kelly who spoke against the amendment.
Cullinane explained his stance saying that: "We went before the electorate in June 2004 with a clear manifesto pledge that we would oppose service charges and Motion 98 gives that pledge an effect."
The amendment was defeated and motion 98 was carried.
One amendment that was carried was that proposed by Sinn Féin Ard Chomhairle member Caoilfhionn Ní Dhonnabháin who spoke in favour of an amendment to Motion 107 which called for the repealing of the 2003 Protection of the Environment Act.
Ní Dhonnabháin said that the amendment was a straight forward measure to "address the fact that there are a small number of positive elements in the 2003 act. The positive elements concerned EU directives on pollution prevention and the protection of ground water.