23 February 2006 Edition
Sinn Féin Ard Fheis 2006 ELECTORAL STRATEGY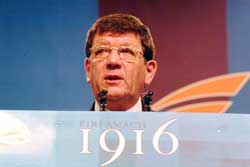 Keeping open the options in 26 Counties
Discussion of electoral strategy was dominated by a lively debate on the issue of coalition in the 26 Counties. There were motions calling on the option to be ruled out entirely and another committing the party to already existing policy, namely that a special delegate conference would be required to consider the issue.
Speaking in favour of existing policy Vice President Pat Doherty said: "The time for any decision on coalition is when the people have spoken and the votes are counted and we should not pre-empt that decision."
Doherty reminded delegates that: "The issue of coalition in the 26 Counties will never arise if we do not substantially increase our mandate and our representation." Sinn Féin had a major job of work ahead to achieve that and this should be the focus. "Let's leave this Ard Fheis determined to deliver the best ever results for this party."
However, there were several voices calling for a change. Ciarán Doherty, Ballymun said people were crying out for an alternative. People were fed up with the mess the establishment parties have created with public services in turmoil. In order for the party to build it was essential to rule out coalition with the establishment parties in the South.
Jackie Phelan, Waterford, spoke against coalition with Fianna Fáil under any circumstances. They had wrecked the political system in Ireland with brown envelopes and had extradited republicans.
Micheal Carr, Dublin, pointed out that Labour had never increased their seats after coalition. Parties of the left needed to stop propping up the right.
Brian Tumlety of the Six-County Cúige warned against overturning a good policy asking: "Why should we let Micheal McDowell sleep at night?." While accepting a debate on coalition needed to happen it was for after the elections.
Gerry Kelly MLA, speaking for the Ard Chomháirle, told delegates that all struggle was about political power. The establishment are scared of Sinn Féin and we should never say never.
Micheál Mac Donnacha, Dublin urged delegates to think strategically. Sinn Féin should keep their options open and get out and organise.
Pádraig Mac Lochlainn, Buncrana urged the delegates not to give the establishment a stick to beat Sinn Féin with. The party must not allow itself to be branded as a permanent party of opposition and warned that some of the motions, if passed could leave candidates at a severe disadvantage in the run-up to elections.
Seán Crowe TD said he wasn't worried that his principles would be diluted. He was ready for Government but wasn't sure if they were ready for him. Crowe said Sinn Féin was in favour of bringing about maximum change which it couldn't do with its hands tied.
Pat Treanor, Monaghan, urged delegates not to relegate themselves to the sidelines while Seán Mac Brádigh, Ard Comháirle told the delegates that powerful interests wanted to exclude Sinn Féin and that they should not be handed the argument that Sinn Féin is purely oppositional. The delegates should trust themselves, he said.
Arthur Morgan TD told delegates not to allow the media portray the forthcoming election as a two-horse race, while Martin McGuinness said Sinn Féin couldn't afford to be presumptuous: "We should let the people decide and have confidence in ourselves," he said.
Justin Moran, Dublin told delegates that Fianna Fáil and Fine Gael were not ready for coalition with Sinn Féin and that they would have to change before this could happen
In the end the Ard Fhéis voted to support Motion 241, which read: "This Ard Fheis resolves to hold a special Ard Fheis if necessary after the next 26-County general election to consider the issues regarding the formation of a coalition government." Consequently the other motions seeking, at this stage, to exclude the coalition option fell.
A motion to have the repeal of the offences against the state as a condition for coalition was also passed. Wendy Lyon, Dublin, spoke in favour saying that the position on this should be "non-negotiable".
For more see http://www.ardfheis.com/news/767 http://www.ardfheis.com/news/753