23 February 2006 Edition
Sinn Féin move to for increased protection and enforcement of workers' rights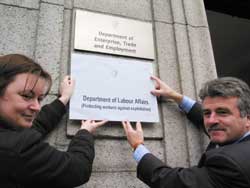 SF seeks Department of Labour Affairs
BY ARAN FOLEY & CAOILFHIONN NÍ DHONNABHÁIN
Sinn Féin used Dáil Private Members time this week to demand the establishment of a stand alone Department of Labour Affairs and to argue for increased protection and enforcement of workers' rights.
Criticising current departmental arrangements, Sinn Féin spokesperson on Employment and Workers Rights, Arthur Morgan TD, pointed to the failure to enforce existing employment law, a dramatic increase in workplace deaths and the contradiction at the heart of the current Department which has competing responsibilities. While one section of the Department was seeking to attract companies noted for their anti-union stance, another was supposed to be ensuring that workers' rights are upheld.
In 1993 the Department of Labour was done away with under the Fianna Fáil/Labour Coalition when labour affairs was subsumed into a new Department of Enterprise, Trade and Employment. Morgan said: "This represented a significant backward step effectively demoting labour affairs and de-prioritising the promotion and protection of workers' rights.
"Labour Affairs is now handled primarily by a Junior Minister. The chief focus of the Department is on enterprise and competition policy. The largest proportion of the funding provided to the Department is allocated to these areas rather than to Employment Rights or Industrial Relations. The Labour Court is under-resourced resulting in lengthy waiting times for processing cases. The Labour Inspectorate at 31 inspectors falls far short of what is required to enforce existing labour law for an expanding workforce. Irish workers enjoy inferior work life balance rights than their European counterparts."
Weak regulation
Morgan went on to criticise the fact that weak labour regulation was by matched non-enforcement and was scathing of those who benefit from the current regime. He said: "Those who benefit include the unscrupulous employers who exploit a weak regulatory regime and insufficient enforcement to increase their profits by exploiting their workers. Also benefiting are the employers who risk their workers health and safety by cutting corners and who make the calculation that the savings to be gained by risking the health and safety of their workers outweighs the penalties for non-compliance if caught.
"We need a Department of Labour Affairs that is focused on upholding the rights of workers to be free from exploitation, to a fair remuneration sufficient for a decent standard of living, to equal pay for equal work and to work in safe conditions that are not harmful to health and well-being. The right of workers to form, join and be represented by trade unions, to negotiate contracts of employment, and to engage in industrial action must also be upheld and promoted. There must be a robust and focused response to the race to the bottom from a stand alone Department of Labour driven by a Minister for Labour Affairs and scrutinised by an Oireachtas Joint Committee on Labour Affairs," Morgan said.
Aengus Ó Snodaigh TD addressed the Dáil on the issue of migrant workers' rights. "Current government policies have made migrant workers particularly vulnerable to exploitation by unscrupulous and greedy employers," said Ó Snodaigh.
He cited numerous examples of migrant worker exploitation, including the notorious Gamma incident where migrant workers were systematically underpaid, as evidence of the state's failure to protect the rights of migrant workers. Some workers were working between 80 and 100 hours for as little as €250 a week, a third of the average industrial wage.
"The state has facilitated many of the abuses by failing to act on them, and to have a properly resourced labour inspectorate," he said.
Seán Crowe TD spoke on the issue of health and safety, pointing out that 71 workers lost their lives in the workplace in 2005, an increase of 21 over the previous year. This was nothing short of a scandal. Singling out the construction industry as particularly notorious in this regard, Crowe drew attention to the fact that, in this industry, the increase in fatalities was a near 50%.
"There were 16 construction deaths in 2004, and 23 last year. Workplace safety is a basic entitlement and should not be sacrificed by greedy employers who cut corners at the expense of safety."
Up to 70 additional health and safety inspectors were needed for what is a woefully understaffed and under resourced department.
"We believe that a greater focus and priority would be given to health and safety under a stand-alone department of labour affairs."
The debate continued on Wednesday evening.