16 February 2006 Edition
Tony Gormley remembered in Kileeshil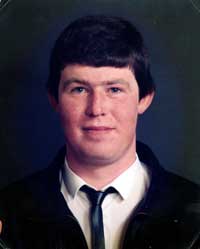 The Tony Gormley Cumann, Sinn Féin in Killeeshil, County Tyrone held a very successful historical night in Quinn's Corner on 9 December.
Cumann chair Brendan Donaghy outlined how the cumann wished to demonstrate to the Gormley family the high esteem in which the local community held the memory of IRA Volunteer Tony Gormley, who was killed in action during the Loughgall Ambush of 1987.
Gerard McDonald covered the history of the republican struggle from the late 1960s to the Hunger Strike of 1981.
Martin Mallon showed a DVD featuring footage of events from the past 30 years. Councillor Seán McGuigan spoke about the role of activists, using his own personal experience to make the link between 1981 to the present day through his various roles as political prisoner, An Phoblacht seller, advice worker to councillor. Mallon contrasted the barring of his entry into the USA in 1987 because he was classed a "terrorist" to his welcome in 2003 as Mayor of Dungannon Council.
The main speaker for the night was former political prisoner, An Phoblacht Editor, elected representative and Sinn Féin Publicity Director Danny Morrisson. His account of the significance of events of the period in the area and their relevance to the overall struggle provided enthralling listening for the large crowd.
Sinn Féin Fermanagh/South Tyrone MP Michelle Gildernew spoke of her local experience and how this had been broadened by her role as public representative for this area.
Probably the most moving event of the evening were the two presentations to the Gormely Family. Danny Morrison presented Annie with an Island Craft and lifelong friend of the family, Arthur Rafferty presented Anthony with a mirror portrait of Volunteer Tony Gormley.
Before the musicians had the chance to entertain the crowd Brendan Donaghy concluded the formal part of the evening by reminiscing of his time with, and memory of his friend Volunteer Tony Gormley and the lasting impact that his death had upon the people of Killeeshil and surrounding area.