16 February 2006 Edition
Fianna Fáil's privatisation agenda rolls on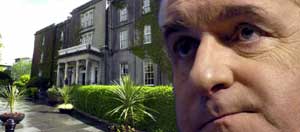 There are many reasons for deciding that the Great Southern Hotel Group is an embarrassment to Bertie Ahern and his cabinet. Its ongoing existence as a state owned company highlights the government's inability to plan the strategic use of resources the tax payer has paid for. It highlights also that more than a year after the break up of Aer Rianta, the public still don't know what are the coalition's long term plans for the state's airports and the national airline Aer Lingus.
It is also an embarrassment because in the low wage hospitality sector where most employees are on revolving contracts, working part time, often with long hours and without the luxuries of affording pensions or VHI cover, the Great Southern Group stands out as an example of the opposite to many of these shortcomings.
Then there is the damning reality that years of government tax breaks to encourage building new hotels undermined the competitiveness of the Great Southern Group. Last week the Indecon study of property-based tax allowances found that half the hotel projects who availed of relief would have gone ahead anyway without the tax breaks.
So Bertie Ahern and his government needlessly undermined their own hotel investment funded by the workers and households who were paying tax, while those who were paying no tax got another leg up from the government.
There has been a lot of scoffing at these notions in the media this week and no doubt such commentators will point to the mounting losses at the group and the fact that payroll costs run to 46% of the firm's turnover compared to an industry norm of 34%.
What they haven't asked are two important questions, the first being could it be that working conditions and wages in the Irish hotel sector are in reality too low and are based on transient employees who could never afford to buy property in Ireland, or raise a family except in the most intolerable of conditions?
Secondly there is the question as to why if there are a growing queue of investors and developers waiting to get their hands on the group, how come its current owners the Dublin Airport Authority cannot show the same ingenuity in turning around this group?
The Dublin Airport Authority want to sell the group off as a going concern, which is code for a property developers dream buy out and the cabinet have given approval for moving forward with a sale.
The only reason for such a quick sale must be the government embarrassment at such a symbol of their collective failings.