16 February 2006 Edition
Housing: nationalists being forced out of North Belfast
BY LAURA FRIEL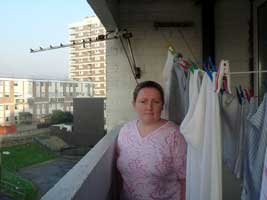 Waiting for equality
Catherine McLoughlin lives with her two young children in a one of seven tower blocks in the nationalist New Lodge in North Belfast. Five years ago she was told by the Housing Executive that it would only be a temporary arrangement, a stop gap while her family waited to be re-housed in accommodation more appropriate to their needs.
"But now they are saying there is no hope of us ever being allocated a proper house," says Catherine. Officially the family is waiting for housing but statistically they do not appear on the Housing List. This is because the list, currently 85% Catholic, has become a political issue in North Belfast.
A recent study, Waiting for Equality exposed unionist determination to secure electoral strength in North Belfast, despite a dwindling unionist electorate, was being played through housing allocation.
Housing Executive policy towards increasing Catholic housing need suggests they move outside the area. In sharp contrast a declining Protestant housing requirement has been identified as a 'problem' that needs urgent attention. Protestants are encouraged to stay while Catholics are being forced to leave.
Recent statistics exposed sectarian inequality in the current housing waiting list experienced by Catholics living in North Belfast. Instead of addressing this, the Housing Executive appears to have buckled under intense unionist political lobbying determined to Keep North Belfast Unionist.
Sinn Féin Councillor Caral Ní Chuilin says that Housing Executive is systematically denying housing needs of people like Catherine McLaughlin in order to keep the percentage of Catholics appearing in housing statistics artificially lower than is really the case.
"The Housing Officer who interviewed me told me I should be glad to have a roof over my head," said Catherine, "and he would only allocate me 22 points". Families living in nationalist areas of North Belfast currently need around 150 points to be eligible for re-housing. "They tell me there is no chance of my family being re housed," says Catherine.
Housing allocation operates on a points system in the North, introduced as a mechanism to ensure need rather than political or religious affiliation was the criteria used to determine housing need.
"The Housing Executive appears to have adopted an active if informal practice of awarding Catholic families below 30 points when accessing their needs," says Carol, "anyone allocated below 30 points does not appear in housing need statistics", says Caral Ní Chuilin.
"The statistics already show an appalling failure to adequately address housing need in nationalist North Belfast. Of 1,900 families on the current waiting list, 85% are Catholics. Rather than address this failure, the Housing Executive appears to be trying to hide it," she says.
Almost a year ago Children's Commissioner Nigel Williams expressed shock and anger after he visited the New Lodge Flats where over half of the flats house families rather than single people.
Catherine has two children; her daughter Jamie Lee aged seven and a two-year-old son Darren. The flat has two bedrooms, barely a double and a small single room. "My son sleeps with me," says Catherine. Conditions in the flat are cramped with a modest living room off a tiny galley kitchen with no dining area and a tiny bathroom. A narrow balcony is the only outdoor space, too unsafe to allow children to play, it hosts a line of washing.
"The flat is very expensive to heat and very damp. The only heating is electric and very expensive to run. Most families here are surviving on benefit. During the winter it's really a case of heating or eating. About a third of my weekly income goes on heating," says Catherine.
"The Children's Commissioner described the flats as totally unacceptable and expressed grave concern at the current number of children living in these conditions, but that's almost a year ago and nothing has changed," says Caral," there is a high incidence of children with Asthma housed in these flats as well as other environmental health issues. Catherine and her children have serious health issues she believes are directly attributable to the housing conditions.
"My son has developmental difficulties and my daughter a serious stress related illness. I suffer from severe depression. Inside the flat we're over crowded, living on top of each other, and yet living in a flat is very isolating. It's a very lonely place for a young mother struggling with very little income and cut off from other neighbours.
The flats backing onto the rubbish chute outside have interior walls blackened with mould infestation and damp.
"Families in housing need are not only waiting for housing but also for equality. The unionist political agenda, expressed by the DUP during a recent election campaign, to 'Keep North Belfast Unionist' is distorting housing policy. The Executive appears to be indulging in sectarian social engineering at the behest of unionism. They are playing politics with people's lives," says Councillor Ní Chuilin.