2 February 2006 Edition
President praises work of parents and carers of autistic children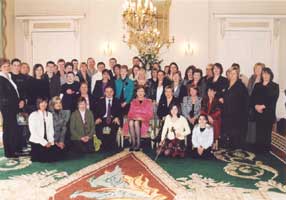 President Mary McAleese acknowledged the work of Tyrone parents and carers of autistic children when she welcomed them to Áras an Úachtaráin, in Dublin's Phoenix Park, Dublin, on Thursday 26 January.
The President greeted each one of the 50 local people who travelled to Dublin to be her guest. Each member got to tell the President of their experiences of living with autism.
In an emotional speech to the group, President McAleese thanked the parents and carers for their work and emphasised the enormous impact that the efforts of the group will have on future parents.
"In your area someone tomorrow or the next day will be told that their child has autism and they will wonder how they will cope. They will turn to you to show them how to cope. They will look at you and see that people have gone down this road before them and they will find strength to cope," she said.
"You are the people who will help them get through because you are the people who are showing them how to do it, and I thank you for that investment."
McAleese spoke of how the focus of autism needs to be changed from "disabled" to "enabled."
After the President had finished her speech, the room was brought to a standstill when 13-year-old Omagh girl Gillian McElroy entertained with a tune on the fiddle.
The words of the President struck a chord with all the parents present and many found it a very emotional experience.
"We don't want to be martyrs, but it means a lot that the President has acknowledged the work that we do and it is a great encouragement for us to continue that work," said Kildress mother, Pauline McNamee.
Sinn Féin MLA Barry McElduff, who helped organise the visit, was impressed by the President's "genuine interest in the stories and life experiences of the adult carers and parents."
"The President exhibited an active interest in these matters, and I commend her for this. The visit was a very special and poignant one for all involved. Public representatives need to listen to the needs of parents of children with autism," Mr McElduff said.