2 February 2006 Edition
Film Review - Stylish thriller fails to connect events and context
BY Aran Foley
Munich
Directed by Stephen Spielberg
Munich purports to be the story of how the Israeli secret service Mossad, tracked and assassinated those it held responsible for the 1972 Munich Olympics massacre of Israeli athletes.
Although quite a long film it doesn't make much of an effort to put these events in context, preferring to use the interaction between members of the hit team to tell the story.
The film opens with events at Munich cutting to Golda Meyer and her cabinet deciding how to react. In a moment of supreme irony she states: "I don't know where these animals come from." This inability of the Israeli state to understand the wrongs it inflicted on the Palestinian people is what instructed its decision to deal with Munich by assassination and it is what has determined its policies ever since.
The film takes us into the dark, cat-and-mouse world of the Mossad hit team as its campaign of assassination intensifies. Arguments amongst its members are used to explore the morality of what they are doing but in truth the film fails to take any kind of an overview. What you are left with is a stylish thriller which makes minimum effort to connect with the events it portrays.
Shot almost entirely from the perspective of the Mossad assassins the Palestinians are almost an afterthought, caricatures. The result is that no matter how much the assassins argue, Munich is the story of those events told exclusively from an Israeli perspective. This is the main problem with the film, it's one-sided perspective makes an objective view of events impossible.
On the level of a thriller it is worth a look but once you realise it is referring to real events it loses substance and bearing that in mind at nearly three hours long it is a bit too long.
An Phoblacht Magazine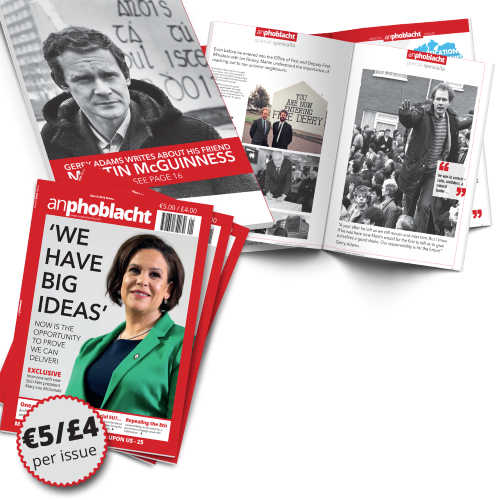 AN PHOBLACHT MAGAZINE:
The first edition of this new magazine will feature a 10 page special on the life and legacy of our leader Martin McGuinness to mark the first anniversary of his untimely passing.
It will include a personal reminiscence by Gerry Adams and contributions from the McGuinness family.
There will also be an exclusive interview with our new Uachtarán Mary Lou McDonald.
test