2 February 2006 Edition
SIPTU backs negotiations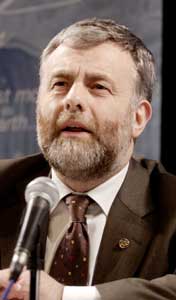 SIPTU has voted overwhelmingly in favour of re-entering negotiations around a new partnership agreement on Tuesday.
SIPTU General President Jack O'Connor told delegates that: "This is a crucial time for the Trade Union Movement and we will not leave the negotiating table until we have played all the cards we have been dealt, in an effort to improve the working lives of union members and working people generally."
O'Connor singled out the construction industry, characterising it as a 'wild west', for special mention while committing to keep job displacement, agency workers and exploitation at the top of the agenda.
He reassured delegates that SIPTU would continue to sanction industrial action in favour of disputes over pensions or sick pay schemes and said he would be trying to achieve local bargaining for workers employed in profitable sectors of our economy.
Despite the Irish Ferries' dispute exposing the real nature of Social Partnership in this country, mounting evidence of ill-treatment of migrant workers and the decline in union strength over the period of partnership, O'Connor insists the Government is the problem, not the process SIPTU leaders have consistently defended.
While speakers at the conference restated that entering negotiations emphasised that there was no guarantee that the members would accept any proposed agreement the reality is that SIPTU has utterly failed to grasp both the reality, and the opportunity, presented by the unprecedented trade union mobilisations of December.
Union leaders must now hope to win at the negotiating table what they failed to effectively achieve on the streets.