26 January 2006 Edition
Hogg confronted over Finucane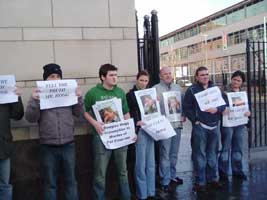 Former Tory Home Office Minister Douglas Hogg was visibly shaken when, on Friday 20 January, members of the campaign group An Fhirinne confronted him over involvement in events leading up to the 1989 murder of human rights lawyer Pat Finucane.
Hogg was appearing at Belfast Coroner's Court when campaigners confronted him over comments in the House of Commons on 17 January 1989, just weeks before Finucane's murder, when he said that some solicitors in the North of Ireland, were "unduly sympathetic to the cause of the IRA".
Hogg, who had strutted around the Coroner's Court at ease lost his composure when Robert McClenaghan of An Fhirinne called out to him. The former member of Margaret Thatcher's cabinet, who prior to the hearing was overheard boasting about a planned hunt, scurried around court benches like a cornered animal until ushers rescued him and escorted him out the back door.
It also emerged during the week that Hogg admitted that he was privately briefed by Special Branch operatives on multiple occasions in the run up to Pat Finucane's murder, carried out by Special Branch agents in the UDA. He admitted attending so many meetings about Pat Finucane that it would have been impossible for him, "to remember them all".
Among the UDA gang involved in the Finucane killing were William Stobie and Ken Barrett, both of whom were Special Branch agents, and both had informed their handlers of the plot against Finucane.
Finucane's son John, who was at the court on Friday told An Phoblacht it is time for Hogg to come clean about his private meetings with RUC Special Branch in the run up to his father's shooting. "We have never been given answers by Douglas Hogg about his briefings with the RUC. He has never apologised or even recognised the impact that his comments had and the distress they caused my family.
"I think it says a lot about his lack of remorse that he is willing to come to Belfast and practice law in the very place where a solicitor was killed following his inflammatory remarks."