26 January 2006 Edition
Dúirt Siad...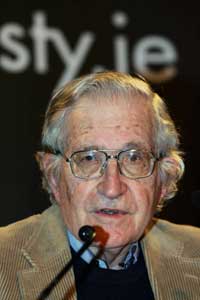 Refuse. It's an Irish airfield. If the United States wants to torture people, let them do it some other way.
Noam Chomsky on US troops going through Shannon. He was speaking in UCD last week at the Amnesty International lecture on the 'War on Terror'.
We have the best-paid consultants in the world. We have the third-best paid nurses in the world, so we pay our healthcare professionals well. What I am concerned about is manner in which people work in the public hospital system.
Mary Harney causes a storm when she accuses healthcare workers of spreading MRSA by not washing their hands. Friday 20 January.
You can never be sure what will happen in a referendum, and this could be a hugely divisive issue.
Taoiseach Bertie Ahern believes a referendum on same-sex marriages could be defeated. Of course with the Nice Treaty, the government just kept running it until it got the result it wanted. The Irish Times, Saturday 21 January.
The family have received widespread international support for their current stance. They will continue and step up their campaign for an independent public judicial inquiry.
The Finucane family announce they are reconsidering meeting NIO Secretary of State Peter Hain, after he said the only inquiry into Pat Finucane's death would be held under the controversial Inquiries Act. The Belfast Telegraph, Monday 23 January.
The irony is that those screaming the loudest for Sinn Féin to be sidelined until they endorse the PSNI will be the very same people who will be in high dudgeon when they see Gerry Kelly taking the salute at a PSNI passing out parade.
Daily Ireland editorial, Monday 16 January.
Sooner or later a unionist leader will recognise that his tribe needs to look outward -- that they need Dublin more than Dublin needs them. It can be Paisley, or it can be someone else.
The Sunday Business Post editorial, 22 January.
An Phoblacht Magazine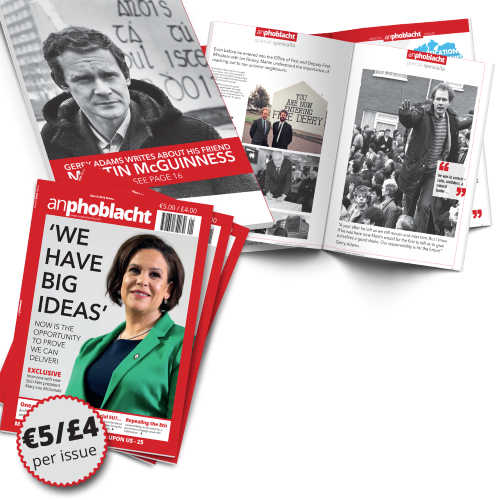 AN PHOBLACHT MAGAZINE:
The first edition of this new magazine will feature a 10 page special on the life and legacy of our leader Martin McGuinness to mark the first anniversary of his untimely passing.
It will include a personal reminiscence by Gerry Adams and contributions from the McGuinness family.
There will also be an exclusive interview with our new Uachtarán Mary Lou McDonald.
test