26 January 2006 Edition
Ó Snodaigh addresses huge Basque rally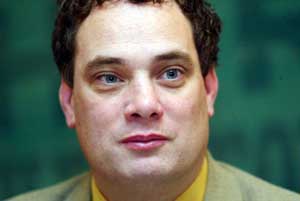 The leader of the banned Basque political party Batasuna, speaking at an alternative rally after a Batasuna congress was banned, said on Saturday last that a Basque peace process was inevitable despite the obstacles.
Tens of thousands of people took part in a rally "for civil and political rights" held in the in the Basque town of Barakaldo, near Bilbao, where Batasuna's congress was banned by the High Court.
In a draconian clampdown on Basque nationalists, Batasuna was declared illegal by the Spanish Supreme Court in 2003.
Sinn Féin spokesperson on International Affairs Aengus Ó Snodaigh also addressed the rally. Speaking afterwards he said: "My message to those in attendance at the rally was to not to be deterred by those who would pursue policies of criminalisation because such strategies will never succeed.
"There is a huge opportunity for political progress in the Basque Country and Sinn Féin will continue to do all that we can to help."
In 2004, a year after it was outlawed, Batasuna unveiled a plan to end the Basque conflict and said it wanted peace talks.
On Tuesday, Otegi blamed the conservative opposition Popular Party (PP), which had demanded the Batasuna meeting be banned, for the ruling and said the PP was doing everything it could to prevent a solution to the Basque conflict.
Prime Minister Jose Luis Rodriguez Zapatero, favoured letting the Batasuna rally go ahead.