26 January 2006 Edition
THE MATT TREACY COLUMN - Local rivalry draws large crowds
It has been a while since Parnell Park was full to bursting point in January. The official attendance last Sunday for the O'Byrne Cup semi-final between Dublin and Meath was over 8,000, but with children admitted free, and clearly in abundance, the true figure was closer to 12,000.
Now that's the good part over! The first day that feels like Spring and them bastards have to ruin it. Someone in Kavanagh's remarked after the match that if two teams of nonagenarians in Dublin and Meath jerseys decided to have an impromptu kick around at the side of the M50, they would pull a few thousand passing motorists.
Such is the rivalry between the two counties. Even such a relatively unimportant encounter, with very few involved who are likely to be first team choices in the summer, can draw the crowds and produce a thrilling spectacle. Of the 38 players used on Sunday, only eleven had appeared at any stage during last June's championship encounter.
Either team might have won but Meath just about deserved it. They were more incisive and in Peter Curran from Duleek had a player who was able to punish Dublin with his free kicks. Curran finished with nine points in total. Relative veteran Nigel Crawford was the best Meath player. Barry Lynch and Joe Sheridan also impressed.
For Dublin, Barry Cahill, Denis Bastic and Mossy Quinn were good. With four excellent points on and consistent performances over all three games, Kevin Bonner of St Brigid's has been a revelation and possibly the one of the 'rookies' who is likely to feature prominently in the future.
Large crowds turned up elsewhere. In the other O'Byrne Cup semi-final, before over 7,000 at Portlaoise old rivals Laois and Offaly fielded noticeably stronger sides than is usual for this competition. The 'midland derby' has the same edge as Dublin Meath or Armagh Tyrone and Offaly won it comfortably enough to gain, what in recent years has been, a rare decision over the O'Moore men. They play Meath in the final at Navan next Sunday.
Tyrone's clear intent to win everything this year continued at Ballybofey in front of 11,000 spectators. A team nicely balanced between experience and newcomers beat Donegal by two points. Armagh fielded a strong team to overcome Cavan and book their place in the McKenna Cup semi-final against Tyrone next Sunday. You can be certain that neither county will be putting out their second string for that one! The victors meet Monaghan in the final.
Speaking of Monaghan, next Sunday sees a match that may well lead to the eagerly anticipated republican feud. However, this will not revolve around such issues as where to go drinking after the Ard Fheis, but the far more important and weighty matter of the All-Ireland Junior football semi-final between Monaghan Harps and Ardfert.
It's potential for internecine conflict stems not from the fact that both teams are from strongly republican areas — Monaghan town and North Kerry , but that chaps who many of us know are intimately involved in the whole thing.
In the blue corner we have the Harps and the Sherry family. Councillor Donal Sherry on the sideline and, if our intelligence is correct, son Johnny in the half backs. And in the black and white corner, Martin Ferris coolly helping to direct proceedings off field while sons Eamonn and Mairtín fulfil a vital role on.
Both teams have been impressive in winning their respective county championships and provincial titles. Harps defeated Killyman of Tyrone in the Ulster semi-final and Clonmore of Armagh in the final. Ardfert easily overcame Rockwell Rovers of Tipperary in the Munster semi-final but had to survive a nail-biting climax and last minute penalty save by Dermot Dineen before defeating Cork's Erin's Own in the final.
This reporter will be sent at considerable expense to cover Sunday's match in Portlaoise. The last time I had anything to do with a match in Portlaoise involving Martin Ferris I ended up in hospital with a broken wrist, so I will be keeping well away from the Ardfert dugout. Report to follow, as they say.
This time next year, I will be writing about rugby and soccer in Croke Park. I have finally seen the light and woken up from my insular nationalist slumber and inhaled the refreshing and invigorating air of pluralism and modernity. How short-sighted and foolish we opponents of opening up Croke Park were not to realise the unbounded good that will flow from this magnanimous gesture.
As a letter writer in the Irish Times told us last week, it's about time that we ended our 800-year whine. In that spirit I suggest that we go further and ensure that all possible sources of offence are removed from the stadium. In future teams will stand to attention for Ireland's Call prior to whatever football and hurling matches do not interfere with the Five Nations and 'Sir' Bobby Robson.
Readers may also be aware that one of the stands is named after a 'terrorist' Michael Hogan, who backwardly resisted a previous attempt to 'open up' Croke Park. Surely a less offensive title might be put in its place. The Sir Hamar Greenwood Stand anyone?
An Phoblacht Magazine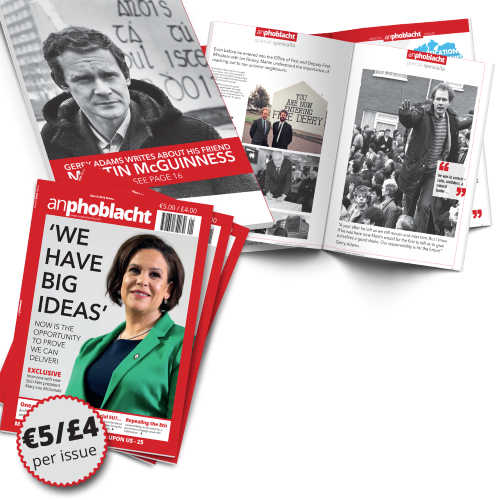 AN PHOBLACHT MAGAZINE:
The first edition of this new magazine will feature a 10 page special on the life and legacy of our leader Martin McGuinness to mark the first anniversary of his untimely passing.
It will include a personal reminiscence by Gerry Adams and contributions from the McGuinness family.
There will also be an exclusive interview with our new Uachtarán Mary Lou McDonald.
test