26 January 2006 Edition
Mála Poist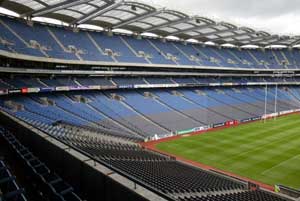 Croke Park
A Chara,
In reply to last week's letter by Michael Smyth entitled "Sad day for Croker?" I have to disagree with him on this issue. During the Special Olympics, Croke Park was opened for all the nations that were taking part in what was a fantastic and unique sporting event. However the abolition of Rule 42 and the opening of the facilities to 'foreign games' is a sad day for Gaels the length and breadth of this island.
In the relatively short history of the organisation we have seen the Brits murder 14 men, women and children inside Croke Park. This happened on 21 November 1920 in what was to become known as Bloody Sunday.
After this horrific attack the GAA renamed a stand after Michael Hogan, one of the men murdered that day. It just beggars belief that the prospect of going to see Ireland play either soccer or rugby against England will also mean being forced to endure thousands of British people possibly seated in the Hogan Stand singing God Save the Queen. This surely is a travesty for our national sports and a massive show of disrespect for the people who have lost their lives over the years for being members of the organisation.
Seán O Siridean,
Lenadoon.
A Chara,
I think Michael Smyth's letter of last week misses the point on the GAA's decision to allow soccer and rugby into Croke Park. It is not, at least to me as a GAA member, about the union jack flying over Croke Park. As Michael points out this is hardly a new development. Nor is it about 'hallowed Gaelic soil' that has played host to American Football and various musicians.
It is the simple truth that Hurling and Gaelic football are in competition with rugby and soccer. All the liberal hand-wringing in the world will not wish this away and it is especially acute in urban areas like Dublin, Galway and Limerick. The money and the glamour of Premiership soccer, the World Cup, European Championship and so on are obviously going to attract young people to the dead end, and hand, of the FAI. As a delegate put it at GAA Congress: "If I ran a car showroom, would I allow my rivals to market their cars in my showroom?"
Far from not wanting the union jack and God Save the Queen, I look forward to both when the time comes that the burgeoning GAA scene in England can send a national team to be torn up by the Galway forward line.
Jim Nolan,
County Galway.
Strabane Memorial Flute Band Invite
A Chara,
We wish to extend an invite to republican bands from throughout Ireland and further afield to our annual Parade and Band Competition in Strabane town on Sunday 26 February.
This annual event is held to coincide with the anniversary of Volunteers Charlie Breslin, Michael Devine and David Devine, who were killed by British State Forces on 23 February 1985.
Tá fearadh na fáilte roimh achan duine chuig an ócáid seo. Any Band wishing to make arrangements to attend should contact Tommy at (028) 71880903.
Is sinne le meas,
Committee,
Strabane Memorial
Flute Band,
Strabane.
American Troops
A Chara,
As an Irish-American, a supporter of a unified, peaceful Ireland, and an advocate for the immediate withdrawal of American troops from the sovereign nation of Iraq, I applaud the statements of Mary Lou McDonald.
It is increasingly obvious that the US Government will not police itself, therefore it becomes necessary for other nations to do the policing.
I beg of all of the people of Ireland — do what we cannot, and please do not let yourselves become polluted by the Bush Regime.
Carter McNeese,
Asheville, NC USA.
James Kelly cleared?
A Chara,
On 9 December a senior advisor to An Taoiseach Bertie Ahern met the widow of the late Captain James Kelly, and two of her daughters at Government Buildings in Dublin. Although long-awaited, this was a very positive development and another meeting is planned at which the family can provide adequate evidence in a bid to secure an official exoneration from the Irish Government.
The late Captain Kelly struggled for more than 30 years to obtain that objective. At his death-bed, his wife Sheila, daughters and sons, promised to continue his fight for justice, no matter how long that might take.
Within hours of his death in July 2003, An Taoiseach publicly stated, in reference to the events leading up to the 1970 Arms Trial: "He had acted on what he believed were proper orders. Personally I have no reason to doubt his integrity." This very welcome, if somewhat belated comment, prompted a number of civil rights veterans, mainly based in Derry, to launch the Captain Kelly Justice Campaign. Central to such efforts is an international petition which has already been endorsed by several prominent politicians, clergy, authors, journalists and people from many other fields of human endeavour, both at home and abroad. The campaign, which has the active backing of the Kelly family, has created a website which can be located at www.captainkelly.org.
Campaigners strongly feel that this unresolved issue is a national shame, which deserves, now, to be treated as a matter of urgency, not merely for the sake of his surviving widow and family members, but primarily in the interests of social justice, human compassion and basic decency, which we all should expect to be essential ingredients to any collective sense of national pride.
Fionnbarra O Dochartaigh,
CKJ Campaign Manager,
Derry City.