19 January 2006 Edition
Dúirt Siad...
While Ian Paisley refuses to share power with nationalists and republicans on the basis of equality and respect, Direct Rule Ministers continue to take bad decisions which impact adversely on people right across this community.
Sinn Féin Vice President Pat Doherty, Tuesday 17 January.
Republicans will not be badgered or forced into accepting less than the new beginning to policing promised in the Good Friday Agreement.
Sinn Féin MLA Gerry Kelly speaking at the party's all-Ireland conference on policing and justice last weekend. Saturday 14 January.
No-one said peace was going to be easy and peace without control of policing is meaningless
The Andersonstown News agrees with Sinn Féin's stance on policing and welcomes the debate to be undertaken by republicans on the issue this year. Editorial, Monday 16 January.
Just as a whole security industry has grown within the police and army in the Six Counties, a parallel industry has grown in the media — in the North and especially in the South — where writers are occupied on a virtually full-time basis in attacking Sinn Féin, Gerry Adams, Martin McGuinness and the rest of republicanism.
Damien Kiberd looks at why many sections of Irish society don't want to see progress in the Six Counties. Daily Ireland, Monday 16 January.
If there's no tag, there's no collection.
A spokeswoman for Dublin City Council. The Council refused to collect from houses that hadn't paid their bin tax, last Monday. The Irish independent, Tuesday 17 January.
It is, in my view, time for a younger person to take on the role.
Fianna Fáil Dublin TD GV Wright announcing Last Monday that he won't stand in the next general election. Wright will be best remembered for mowing down a pedestrian when drunk driving two years ago, and accepting payments from lobbyist Frank Dunlop.
An Phoblacht Magazine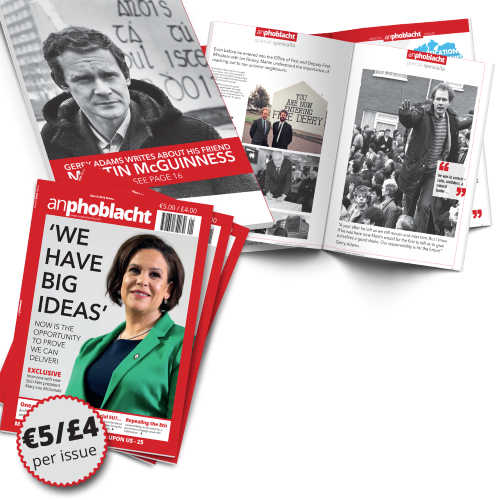 AN PHOBLACHT MAGAZINE:
The first edition of this new magazine will feature a 10 page special on the life and legacy of our leader Martin McGuinness to mark the first anniversary of his untimely passing.
It will include a personal reminiscence by Gerry Adams and contributions from the McGuinness family.
There will also be an exclusive interview with our new Uachtarán Mary Lou McDonald.
test