19 January 2006 Edition
McColgan killers being protected by PSNI says priest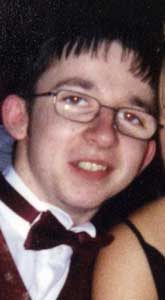 A parish priest is accusing the PSNI of not prosecuting the killers of postman Daniel McColgan because they are Special Branch informants.
Father Dan Whyte was speaking on the fourth anniversary of the killing of 21-year-old Danny McColgan who was shot dead by unionist paramilitaries as he arrived for work at a Post Office sorting office in the unionist Rathcoole Estate on the outskirts of North Belfast on 12 January 2002.
The killing was later claimed by the Red Hand Defenders, a cover name used by the UDA.
Within days of the killing the names of two unionist paramilitaries from Southeast Antrim were linked to the killing. One is now the local UDA commander.
Fr Whyte said the feeling within the community is that the killers are being shielded because they are Special Branch agents.
"The names of those who killed Danny are known among this community and the common understanding is that the PSNI know who was involved in the killing but the killers have not been touched because they are informants. It is absolutely appalling that the guys who did this are walking the streets. They committed murder, yet nothing has been done."
Danny McColgan was one of four young men killed by unionist paramilitaries in Southeast Antrim during a 12-month period. The PSNI have yet to charge anyone in connection with their deaths.
The PSNI are involved in using unionist paramilitaries as agents and those informants have been involved in the murder of nationalists as well as that of fellow loyalists.
It is believed unionist paramilitaries working as Special Branch agents were involved in the killing of Raymond McCord Jnr in November 1997 and the beating and stabbing to death of David McIlwaine and Andrew Robb in February 2000.