19 January 2006 Edition
Sinn Féin Meet US Congressional Delegation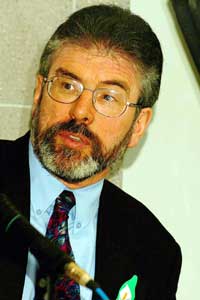 Sinn Féin President Gerry Adams led a party delegation including Fermanagh/South Tyrone MP Michelle Gildernew and North Belfast MLA Gerry Kelly to meet a delegation of US Congress members in the Belfast on Wednesday. The US delegation was led by Jim Walsh and included Tim Murphy and Brian Higgins.
Speaking after the meeting Gerry Adams said: "This was a constructive engagement. Members of the US Congress have a long record of supporting the Irish Peace Process. Jim Walsh, as chair of the Congressional Committee on Ireland, has played a significant role over the past decade and more.
"We impressed upon them our belief that the two governments have a significant responsibility to advance planned talks next month so that the power sharing institutions are restored as soon as possible. The only basis for moving forward is that set out in the Good Friday Agreement.
"We also discussed with the delegation ongoing concerns about political policing. Further evidence of this was provided by the intervention of Sam Kinkaid yesterday evening and we lobbied for their support in dealing with the issue of undocumented Irish people living in the United States. In our view the proposals from Senators Kennedy and McCain do that best.
"The United States has over many years provided important support for the development of the Irish Peace Process and we look forward to working in the future with all those US politicians and interest groups as we seek to inject momentum into the political process."