19 January 2006 Edition
Migrant workers -Leitrim can lead the way
Opinion - New communities: We need to manage change properly and fairly
Leitrim has long suffered from emigration that saw its population decline steadily in almost every decade of the 20th Century. It is only in very recent times that this haemorrhage has subsided. Now Leitrim, like every other County in the 26 Counties, is host to an entirely new phenomenon - immigration. Here Leitrim County Councillor Michael Colreavy argues that this can be of benefit to Leitrim, Ireland and those people who have come here seeking work, but only if managed properly and sensibly
Society in Ireland is changing rapidly. A decade ago we had high levels of emigration, when our youth had to leave their homes and country to seek decent employment opportunities. Immigration was almost unheard of, and people in areas of low population like Leitrim knew their neighbours and community for generations. Now the curse of emigration has thankfully reduced and we experience the new phenomenon of immigrants coming to Ireland seeking work. Leitrim, like the rest of the country, is impacted by this change. We need to manage the change properly and fairly if we are to maximise the benefits and minimise the risks associated with this new reality.
Irish people should fully understand the concerns and problems faced by people who must leave their home countries to seek a living.
Immigrants arrive in a strange environment with different culture and language and seek to gain employment and set up home in our midst. They face many difficult challenges. They find it difficult to become part of the community because of language barriers and because they often do not know whether their being here is welcomed by the community.
In some cases the immigrants are exploited and abused by unscrupulous employers whose only motivation is profit. There are also, unfortunately, a small number of narrow-minded racist bigots in every community who distrust anybody who is not a white Irish person and who make their feelings known to immigrants. Thankfully these bigots are a minority
Most Irish people welcome immigrants to our communities. We understand their reasons for coming here and we appreciate they can make a great contribution to our economic and social development. We value the different experience and culture they bring with them. We want to make sure immigrants are treated with respect by people in the community, by local businesses, by housing landlords, by employers, by state agencies and by the Irish Government. We want immigrants to feel safe, secure, valued and wanted in a friendly and supportive community
We also want immigrants to understand they have a responsibility to contribute positively to development of our society, and that membership of our community brings responsibilities as well as benefits. We need to plan for and manage a future environment where, for example, the building trade may not be as vibrant as at present and employment opportunities are not as plentiful for either immigrant or native job seekers.
Decades of experience in the Six Counties demonstrate the injustice and risks inherent in marginalising people and leaving them without effective representation. We in Leitrim have an opportunity to play a leadership role nationally by designating a seat on the County Council's Community, Cultural and Enterprise Development Strategic Policy Committee for a representative of immigrant workers living and working in the county. This would provide a platform for immigrants to help shape council policy and for the community to identify and consider any issues standing in the way of assimilating these workers and their families more fully into Leitrim society.
Imagine in the next couple of decades: An immigrant Chairperson of Leitrim County Council (or a TD and Government Minister representing a restored Sligo/Leitrim constituency) presenting the Sam Maguire Cup to an immigrant captain of the Leitrim senior team in Croke Park. It can happen!
An Phoblacht Magazine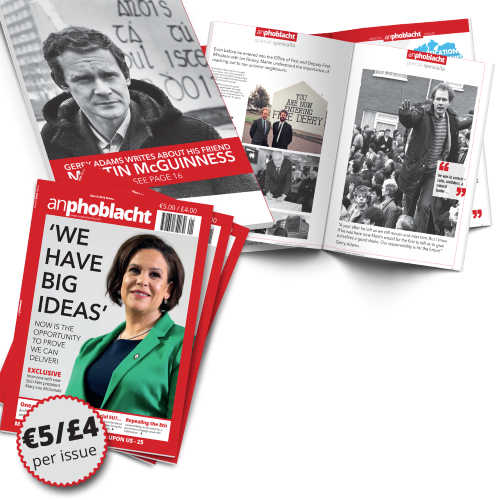 AN PHOBLACHT MAGAZINE:
The first edition of this new magazine will feature a 10 page special on the life and legacy of our leader Martin McGuinness to mark the first anniversary of his untimely passing.
It will include a personal reminiscence by Gerry Adams and contributions from the McGuinness family.
There will also be an exclusive interview with our new Uachtarán Mary Lou McDonald.
test