19 January 2006 Edition
Remembering the Past: Classic case of collusion
BY SHANE Mac THOMÁIS
On 27 January 1977, Michael McHugh was murdered by two members of the UDA, one of them a British Army agent, at Aghyaran or Corgary near Castlederg, County Tyrone.
Michael McHugh was a 32-year-old forestry worker. He had been active in Sinn Féin where he was chairman of the local cumann for a period but had resigned this position before he was assassinated. Michael's house was continually raided by the British Army and the RUC. Not a month passed by when he wasn't arrested or stopped, so much so that after his death his wife accused the British Army of 'putting a name on him'.
After Michael was murdered, Fr Denis Faul, a local priest, disclosed that he had sent copies of a letter threatening McHugh to the RUC and British Army in Omagh for investigation. The letter had been sent to McHugh on 29 October 1976. Faul maintained that the style of the letter was 'British', drawing attention to the use of words like 'kiddies', 'kids', 'dad' and 'cheerio'. It is believed the letter was typed in a UDR base and posted in Belfast. The death letter read:-
Dear Michael,
Just a few lines to let you know your name has been added to our list. By our 'List' we mean our vermin extermination list.
Its really too bad that your kids will not have a Daddy, but on second thoughts, none would be better than the rat they have for one now.
We know you work part-time in the Forestry-Division and your old yellow lorry.... has been followed by some of us from time to time. We already have our plans made and are just about waiting for the correct time to carry out the execution. Won't the world be a better place without scum like you? Where you are going you won't be able to make any more false accusations or write to any newspapers.
Remember, when you are doing a bit of farming, keep looking behind. No, don't worry, we won't take you from behind. We like scum like you to see what's coming to them.
Wouldn't it be a sin if anything happened to your kiddies? All because of the action of their dad.
See you soon, Michael
Cheerio
Michael McHugh was continually followed by a UDR man who threatened and harassed him. A week before he died Michael mentioned him to his wife and said: "If anything happens to me he will have something to do with it." With the kidnapping of Dr Tiede Herrema, on 3 of October 1975, the vicinity of McHugh's home began to be searched by the British Army who believed that the IRA were crossing into the area from Donegal. Houses were raided including McHugh's. During these searches two 'civilian representatives' from the British Army barracks began to call at Michael McHugh's house. They often drew the conversation into political problems, and were seen on occasions walking in the fields. On one occasion they even offered Michael McHugh a gun for his protection.
Michael McHugh's murder was carried out as the letter predicted on 21 January 1977. He had just left his wife Mary, a schoolteacher and two daughters aged four and two, and driven down the lane in his yellow lorry, on his way to work at the Killester Forest. His wife heard three bursts of machine-gun fire. When she looked out she saw the lorry with its headlights on. She ran out and saw her husband's body lying beside the lorry. Later an anonymous telephone caller in Derry claiming to represent the UFF admitted responsibility for the killing and claimed that McHugh was the IRA's West Tyrone commander, a claim denied by republicans and his family to this day. The caller said that the murder had been carried out by the West Tyrone unit of the UFF.
Ten years later, in 1987, following the evidence of an informer, nine UDA men were sentenced for crimes ranging from robbery and hijacking to murder. They were all from the Derry area. One of them, William Bredin, originally from Moville, County Donegal, was sentenced to life for the murder of Michael McHugh. He pleaded guilty and so few details were revealed in court.
Bredin, an RUC reserve policeman, revealed later that he did not know at the time of the shooting that a threatening letter had been sent to Michael McHugh. He said that he had been told that McHugh had shot two UDR men. Bredin stated that his fellow murderer on the night had a British Army issue map on which were marked roads and McHugh's lane and house. This second man was never charged; he was outside the country when an informer gave the evidence against this group of Derry UDA men. The man, a native of Castlederg, worked in close liaison with the British Army. The murder of Michael McHugh was a classic combination of British undercover soldiers aiding and abetting the UDR and UDA in their sectarian murder sprees.
An Phoblacht Magazine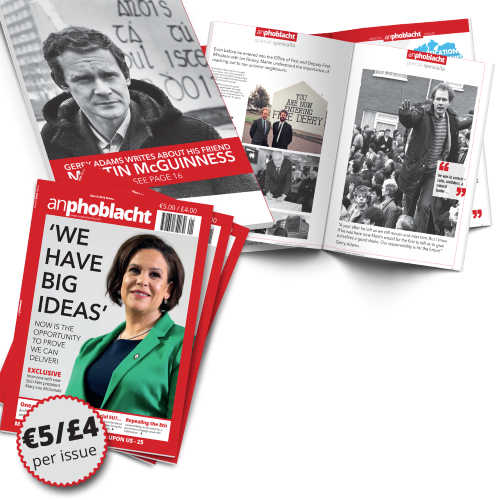 AN PHOBLACHT MAGAZINE:
The first edition of this new magazine will feature a 10 page special on the life and legacy of our leader Martin McGuinness to mark the first anniversary of his untimely passing.
It will include a personal reminiscence by Gerry Adams and contributions from the McGuinness family.
There will also be an exclusive interview with our new Uachtarán Mary Lou McDonald.
test