12 January 2006 Edition
Books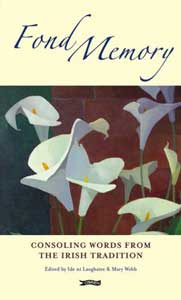 Words for occasions of sorrow or ceremonies of remembrance and a transcript of RTÉ's Thomas Davis Lecture series
Consoling and inspiring words
Fond Memory — Consoling Words from the Irish Tradition
Edited by
Íde Ní Laoghaire
and Mary Webb
Published by O'Brien
Price €12.95
There has been some controversy in recent years over the restrictions imposed by the Catholic hierarchy on the type of music and readings used at funerals. If this were coming from a Church where sensitivity to the wishes of the bereaved was universal it would have more credibility. But, I'm sure like most people, I have been to funerals where there was little or no reference by the priest to the character and life of the deceased. And of course we have all experienced the silences about a person's republicanism.
That said, things have improved in recent times and many priests do work closely with bereaved families and assist in making funerals more meaningful ceremonies. People should take ownership of these 'rites of passage'. This book should help. It is a fine collection of poetry, songs, hymns, phrases and blessings "for times of sorrow and remembrance or to be read at funerals". As the editors point out, there are other such publications but none based on Irish literature. This book fills that role admirably. Many familiar works from the well-known Irish poets are included, but there are also much lesser known pieces, including verses from Old and Middle Irish with translations. Some more Irish language would have been welcome and should be considered if there are future editions.
Apart altogether from its stated purpose of remembrance this is a fine anthology of poetry and is recommended to anyone who loves Irish literature.
BY MÍCHEAL Mac DONNCHA
Lacklustre lectures
The Republic
Edited by Mary Jones.
Published by
Mercier Press.
Price €12.99
Though its title will attract republicans, this is a disappointing book. It is a transcript of the Thomas Davis Lecture series broadcast on RTÉ radio last year. Academics and writers were asked to address the meaning of republicanism and its relevance to Ireland today.
Part of the problem is that most of the contributors have used a very broad canvass. Thus we have an essay on the Greek and Roman republics. Under this definition of republicanism the slave-owning Athenians, Romans and Southern planters in the US were republicans, as was the dictator Oliver Cromwell. If it is to have any meaning a republic must be democratic and based on equal rights for all. The authors do not adequately deal with the concept of Irish republicanism, particularly in its modern manifestations. There is scant reference to the struggle against partition and for national self-determination in Ireland.
It is not very clear what criteria were used to select contributors. There is no Sinn Féin contributor, although essays by Fianna Fáil Senator Martin Mansergh and Labour Party member Ivana Bacik are included. A topic of this kind should have been addressed by representatives of the main political forces that claim the republican mantle as well as people from other walks of life.
Hopefully the 90th anniversary of the 1916 Rising will provide better opportunities and better publications addressing the need to implement the principles of the Proclamation and to establish Poblacht na hÉireann.
BY MÍCHEAL Mac DONNCHA
An Phoblacht Magazine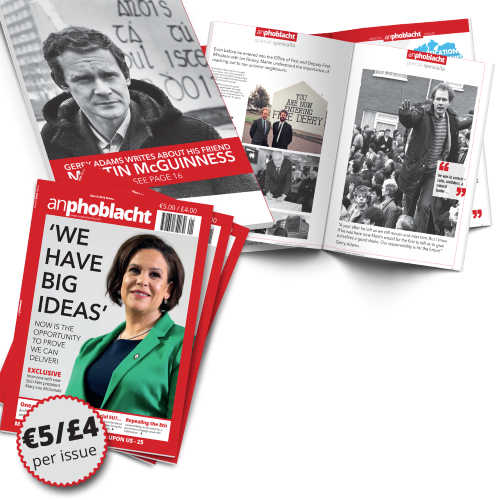 AN PHOBLACHT MAGAZINE:
The first edition of this new magazine will feature a 10 page special on the life and legacy of our leader Martin McGuinness to mark the first anniversary of his untimely passing.
It will include a personal reminiscence by Gerry Adams and contributions from the McGuinness family.
There will also be an exclusive interview with our new Uachtarán Mary Lou McDonald.
test