12 January 2006 Edition
Another British failure in Ireland
BY FERN LANE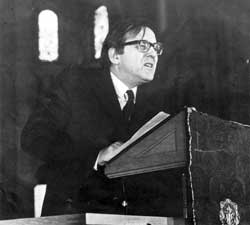 Merlyn Rees - British Direct Ruler during some of darkest days
The tenure of former British Secretary of State for the Six Counties, Merlyn Rees, who died last week aged 85, was from the outset marked by indecision and timidity. When he arrived in the Six Counties after the unexpected election of Harold Wilson's Labour Government in February 1974, he came as an inexperienced Minister, despite having shadowed the post for some time in opposition. This inexperience was to become telling in the months which followed.
He walked straight in to the crisis of the Ulster Workers' Council strike, and his mishandling of the events set the tone for the remainder of his time in office. Wilson's press secretary Joe Hain observed after that: "Northern Ireland wore out Merlyn Rees. He ached, and he looked as if he ached, with tiredness after his first 15 months in office."
UWC strike
Rees had the misfortune to come into the post just as unionist opposition to Sunningdale and the putative power-sharing Executive had begun to get ever more ugly. The then Unionist leader Brian Faulker was losing support fast, and the UWC, backed by the UVF and UDA, had through blatant thuggery and intimidation, initiated a general strike. UWC members effectively controlled key services such as transport and power supply, and armed and masked men set up roadblocks throughout the Six Counties in order to prevent people from going to work.
Wilson was incensed at this challenge to his authority and went on television to denounce the strikers, famously calling them "spongers". Despite the rhetoric, however, neither he nor Rees was prepared to face the UWC head-on. Rees refused to order the British Army and RUC to intervene to break the strike, and Wilson did not over-ride him. Subsequently, Rees was to claim that his refusal to send in the army was a democratic imperative, arguing: "It could not be done. We couldn't do a Prague. You can't put down a popular rising by killing people. We're not Russia ... This was the Protestant people of Northern Ireland rising up against Sunningdale. They could not be shot down." Of course the British state in the guise of its army had attempted to do just that just two years previously — put down a popular rising by killing people -- on Bloody Sunday. Then the nationalist people had risen up against injustice, only to be shot down.
The real reason for Rees's refusal to send in the British Army or RUC was his fear that this would lead to a Curragh-like mutiny by crown forces. British soldiers and RUC men had been seen openly laughing and chatting with unionist paramilitaries at road blocks and both he and Wilson were afraid of the consequences of forcing them to take action against the UWC and its supporters.
However, while refusing to take on the UWC, Rees also refused to accede to Brian Faulkner's request to negotiate with its leaders and so, three days after the strike, Faulkner resigned, and the Executive failed. In response to this failure, Rees came up with an ill-fated plan for a so-called Constitutional Convention, another form of elected executive, but which also failed almost before it began. Rees legalised Sinn Féin, no doubt hoping that entry in to electoral politics would blunt the revolutionary potential of the party and enable the British Government to control its rise. This desire was to be thwarted.
IRA Ceasefire
In late 1974 the IRA announced that it was to extend its annual Christmas ceasefire for a further two weeks. Three days before it had been due to end, Rees had announced that, should it be continued, the British Government "would not be found wanting in its response". Rees failed to honour the promises he had made, particularly in respect of the demand that the British Army be withdrawn to barracks, and the ceasefire ended.
What followed were some of the darkest days of the conflict. Internment was still in place, despite Rees' publicly stated intention to abolish the policy. The British undercover security forces were plying their murderous trade unhindered. The British Army continued to prowl nationalist areas, and unionist paramilitaries continued their sectarian assault on the Catholic community. Rees, for his part, continued to implement the British Government policy of the criminalisation of the IRA and of what he called "police primacy"; Normalisation and the pretence that the conflict in the Six Counties was nothing more than a criminal conspiracy.
Internment ended
Rees left his post in September 1976 to become British Home Secretary and oversee the introduction of the draconian Prevention of Terrorism Act. He was succeeded by the flamboyantly anti-republican and loathsome Roy Mason. Before leaving, however, and mindful of his legacy, he had finally got around to abolishing the monstrosity that was Internment. The last 46 internees were released on 5 December 1975. It has taken him almost two years of dithering to get around to it, although he claimed later that he had been opposed to the policy since 1971.