12 January 2006 Edition
Community welcome for Mary Lou
BY JOANNE CORCORAN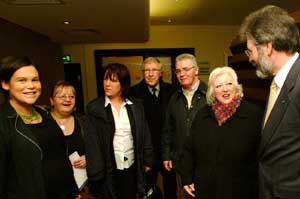 Community welcome for Mary Lou
"If you can't make a direct, positive impact on the communities you serve as a political activist, you're working in vain."
So said Dublin MEP Mary Lou McDonald, the new general election candidate for Dublin Central, at a meeting with community activists in the constituency last Wednesday.
McDonald was accompanied by Sinn Féin President Gerry Adams and Dublin City Councillor Christy Burke.
The motivation behind the get together was to develop the relationship built between the Sinn Féin MEP and Dublin activist groups during the European election campaign. The representatives were asked to impart some of their experience on the ground to Mary Lou.
Among those present was Mary Cummings of the North Wall Women's Centre. "We have a purpose built crèche in our centre, but we are completely dependent on CE funds. If they were pulled, we would close," she said.
Maria Tyrell of the Larkin Centre said community activists spent so much time looking for funding for the present, that they couldn't develop plans for the future. Other activists agreed, saying the government used the threat of funding to not only keep the status quo, but also to create disharmony among the groups by making them compete for funds.
"We know what the challenges facing you are," McDonald said. "We need to make sure your problems are articulated and brought to the public's attention. I think the Irish people are still open to other people's problems and developing communities. We haven't quite closed our ears yet."
Gerry Adams said he always felt uplifted to be surrounded by people whose life work was to empower, educate and employ people. "We want to help you bring about change now," he said. "Communities throughout this country are fighting back at this government and the myth that we are a wealthy country and no one is living in poverty is being quashed. You are the people who can make this country better and our agendas are the same."