12 January 2006 Edition
Celtic clocks on hold!
BY Matt Treacy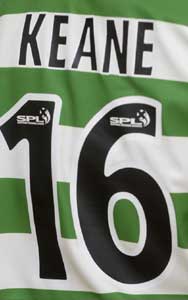 2006 began last weekend with the Connacht FBD League and the McGrath, McKenna and O'Byrne Cups in Munster, Ulster and Leinster. These competitions are very much secondary or even tertiary to the Provincial championships and National League but they are important testing grounds and have provided good entertainment, especially in Ulster and Leinster over the past few years.
Certainly the 8,000 who turned up at Omagh for the Tyrone-Down game, were not disappointed. Tyrone only started four of the 15 who began the All-Ireland Final against Kerry but emerged 2-12 to 0-11 victors over a Down team which included 12 of those who played a part in their losing qualifier against Derry last July. It is early days, but it betokens a potentially yawning abyss between Tyrone and most of their provincial competitors, not to mention the rest of the country!
There were a few surprises in the weekend's matches. Armagh were held to a draw by the University of Ulster, Jordanstown at Crossmaglen. On paper it was a strong home side but the students were by all accounts the fitter and Armagh paid the price for a ridiculous amount of wides. Queens beat Antrim in Belfast while Sligo defeated Galway at Tuam having come from seven points behind.
Elsewhere, and more predictably, Cavan, Donegal and Monaghan had wins in the McKenna Cup. In Leinster Kildare, Westmeath, Louth, Meath and Offaly were successful. In Connacht, Leitrim and Roscommon beat student opposition while Tipperary defeated the Cork Institute of Technology in the McGrath Cup. On Saturday Mayo overcame NUI Galway at Ballinrobe. On Monday this week, Cork easily overcame the Institute of Technology, Tralee with left corner forward Robert O'Mahony scoring an amazing 3-5.
Floodlights have by now spread beyond the sophisticated technological centres of Dublin, Cork and Tralee and were used last Thursday night when the Wexford footballers beat Wicklow at Craanford. This was the first match Wexford have played since coming under the wing of Paul Bealin who won an All Ireland with Dublin in 1995. Bealin's loyalty will be tested on Sunday, assuming Dublin overcame UCD on Wednesday at Coolock, when Wexford and the Dubs meet in the next round.
Bealin was a "neighbour's child" and when I was in Portlaoise his father asked my Da if I could make a mirror with Paul's photo on it. Being an intellectual of course I couldn't but I did manage to contract it out to Matt Hennessy in return for food. It was a very basic economy. A bit like North Korea except the speeches were longer.
Anyway, the Bealins were delighted with the mirror and I was sent in the jersey that Paul had worn in the replay of the 1993 League Final in which Dublin beat Donegal by ten points to six, thus exacting revenge for the previous September's All-Ireland defeat. Well, not quite.
The jersey became a treasured possession and I wore it on the day that the Dubs finally overcame their demons in September 1995. I steadfastly refused to buy one of the new jerseys that appeared each year and it survived up to 2000 when I made the grievous error of lending it to my sister for a match in Navan.
My constant requests for it to be returned met for some weeks with evasion and lies until eventually the truth emerged. She had thrown it out. When I was able to speak I attempted to reason with her. How could she? "But sure it was old and had blood on it". Old and had blood on it. Like the Turin Shroud maybe. Or the flag that had flown over the GPO in 1916. We no longer speak of it.
Well, it looks like the next generation of Celtic clocks — the ones with Pádraig Pearse and the Pope in the middle and Keano and Hartson at the tips of the minute and hour hands will have to be put on hold. The reason of course being Celtic's unceremonious dumping out of the Scottish FA Cup by lowly Clyde. The Bully Wee as they are known by their chums — who now number chaps who laid Celtic at as low as 1/20 on the betting exchanges! — certainly ruined the party.
Clyde, who started six players of recognisably Irish descent, are one part of a kind of alternative Glasgow 'Old Firm'. The other half is comprised of Partick Thistle. Neither have much that really amounts to a glorious past although Clyde did win the Scottish Cup in 1939, 1955 and 1958 and Partick in 1921. So beating either Celtic or Rangers is a big thing. This is especially true when the big two have highly paid players from all over the world, including capped internationals.
So you could say that Clyde beating Celtic is the equivalent of Waterford beating Armagh in football or the Armagh hurlers defeating Waterford. Isn't sport great! Oh, and whoever sent me that text asking what crap team Keane is going to play for next ought to be ashamed of themselves.
Finally, word has come in that Steve Staunton is to be the next manager of the 26-County soccer team. He will be assisted in his task by Sir Bobby Robson (96). Apparently he was a handy Gaelic footballer himself. Staunton that is, not Sir Bobby.
An Phoblacht Magazine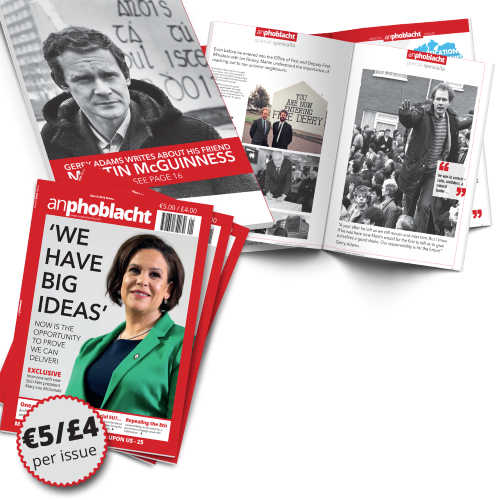 AN PHOBLACHT MAGAZINE:
The first edition of this new magazine will feature a 10 page special on the life and legacy of our leader Martin McGuinness to mark the first anniversary of his untimely passing.
It will include a personal reminiscence by Gerry Adams and contributions from the McGuinness family.
There will also be an exclusive interview with our new Uachtarán Mary Lou McDonald.
test