12 January 2006 Edition
British must resolve OTR issue
The British Government has withdrawn its proposed legislation for 'On the Runs' (OTRs). This is a necessary and welcome development and something which Sinn Féin has demanded.
The issue of OTRs was discussed in Weston Park in 2001 and has been in the public domain since then. It was always understood that this issue related to a small number of people who may have been sought by the British state in relation to incidents during the past three decades of conflict in the Six Counties. There was never any agreement or discussion on the issue of British state forces. There are no British OTRs. Sinn Féin always and consistently opposed the inclusion of British state forces in any such legislation.
When it became clear that the British Government, through sleight of hand, had made such an inclusion in legislative proposals, Sinn Féin sought over a number of weeks to try and get it to return to the position agreed at Weston Park. When it became clear that it intended to proceed with this legislation including the clauses relating to members of the crown forces Sinn Féin demanded that the Bill be withdrawn in its entirety. The British Government has now agreed to do this under pressure. It follows joint meetings between Sinn Féin, victims groups and the British Government.
The SDLP has lied about the OTR issue. They know that there was no discussion or agreement about British state forces, a fact belatedly admitted by Mark Durkan, yet they disgracefully attempted to use the victims of state violence to score cheap political points.
The SDLP ignored the victims of state violence for decades. None of their Assembly members or MPs met with victims of state violence when they visited Stormont and Westminster last year. That shows the level of their commitment to this issue.
The OTRs issue still remains to be resolved. Responsibility for this rests firmly with the British Government. The small group of people affected by this anomaly should be allowed to return to their homes and their families. This is an essential part of the Peace Process.
An Phoblacht Magazine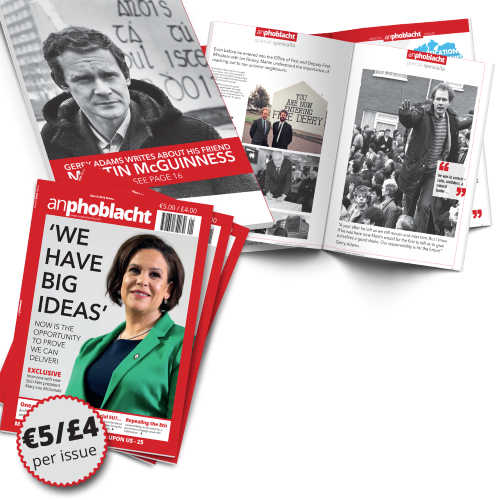 AN PHOBLACHT MAGAZINE:
The first edition of this new magazine will feature a 10 page special on the life and legacy of our leader Martin McGuinness to mark the first anniversary of his untimely passing.
It will include a personal reminiscence by Gerry Adams and contributions from the McGuinness family.
There will also be an exclusive interview with our new Uachtarán Mary Lou McDonald.
test