12 January 2006 Edition
Belfast City Council to pay for St Patrick's Day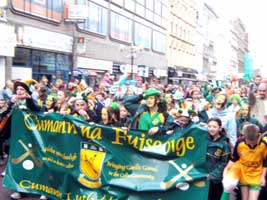 A last-minute DUP attempt to stop Belfast City Council from funding this years St Patrick's Day celebrations failed at a council meeting on 4 January. For the first time the council has taken ownership off the event.
Unionist councillors failed to overturn a committee decision backing a £100,000 St Patrick's Day concert in Custom House Square in Belfast City Centre.
Unionist concerns centred around the number of stewards, the role the PSNI and the display of the Irish national flag.
DUP Councillor Sammy Wilson proposed an amendment withdrawing support citing fears over, "security and other issues", while UUP Councillor David Browne claimed if the PSNI became involved it would be "a murder match" adding, "this will be a prime chance for anyone who wants to cause mayhem".
Sinn Féin Councillor Fra McCann pointed out that the DUP had no problem with the council funding unionist bonfires in July many of which are the scene of unionist paramilitary displays.
The DUP motion was defeated by 25 to 24 by the combined votes of Sinn Féin, SDLP and Alliance, prompting DUP Councillor Christopher Stalford to hit out at PUP leader David Ervine who was absent.
Welcoming the decision Conor Maskey of the Belfast St Patrick's Day Committee said there was more work to be done to ensure that St Patrick's Day events in Belfast can compete with the likes of New York, London and Beijing.
"This is a major breakthrough for the St Patrick's Day Committee, we have had to campaign for nine years to get proper council funding for St Patrick's day events."
Maskey said that a lot of work remained to be done to make the saint's day a success in years to come. "While we welcome the council's decision, we are aware acutely aware that there is more work to do in terms of lobbying to make 2007 and beyond even bigger and better. We would encourage people from all corners of the city to ensure that they flock to this year's event and make it the most colourful, vibrant and carnival filled to date so that the argument can be made positively for years to come."
Commenting on the DUP's failed motion Maskey said the DUP bring these concerns year in and year out and they should be concentrating on the positive aspects of the parade and not the negative.
"Asking people to leave their Tricolours at home in the same as asking people to leave union jacks at home on a night of the Proms. The same should apply to all sections of the community".