12 January 2006 Edition
Restoring Good Friday institutions - Sinn Féin in contact with both governments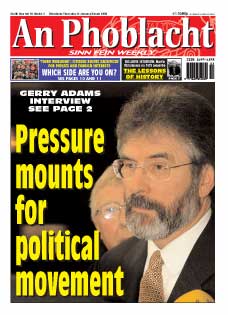 Speaking to An Phoblacht on Wednesday evening last Sinn Féin President Gerry Adams revealed that Sinn Féin had been in contact with the British and Irish governments at the highest levels about the prospects for political progress in the time ahead.
Asked whether he was confident of political movement in the short term to restore the Good Friday political institutions Sinn Féin President Gerry Adams said: "Well, we have met the two governments at the highest level in recent weeks and we will continue to engage with them. Given what republicans have accomplished in 2005 we put it very firmly to both governments that they need to be moving in the next few months to reinstate the political institutions "They, in remarks by the Taoiseach , the British Prime Minister, the British Secretary of State, the Minister for Foreign Affairs, have all indicated that they intend to see political progress but I don't think that we can take any of that for granted. We will continue to work with them to keep them to that commitment."
Asked what in concrete terms Sinn Féin wanted the British government to do Adams said: " The fact is that the British government suspended the political institutions. Sinn Féin's position is that they had no right to do that, that they should not have done that. So we are looking to the British government to lift the suspension of those political institutions.
"Obviously we understand the need for that to be done in circumstances which would have the maximum possibility of the DUP going in to the power sharing Executive with the rest of us. So we appreciate and we are part of the various efforts to create the conditions where that happens. But it cannot go on too long and the current situation is untenable in the longer term. We have put that very directly to Mr Blair.