5 January 2006 Edition
A Rebel in Paradise - By MICK DERRIG
A few years ago a woman of my acquaintance asked me about Roy Keane. What kind of man was he? She had little knowledge of or affection for association football. However, in the run up to the 2002 World Cup she couldn't escape the hype. She wanted to know about our country's best player.
I immediately described him as "driven, deep and complicated" moreover I told her that "he does revenge very well".
It was a couple of months after the Alf-Inge Haaland assassination. He was yet to detonate over Saipan, but nothing in the years since that have made me revise my assessment of Keano.
A couple of weeks ago Keane came home. This most alienated of men left England.
The Premiership fixated hacks in the Dublin sports pages have little, if any, knowledge of what Glasgow Celtic actually is. Even Liam Brady, who once managed Celtic in the 1990s, demonstrated in his column in the Tribune that he really didn't have a clue what the club was about.
At the press conference at Celtic Park head the assembled hacks -- most of them Rangers men — where struggling to cope with the reality that here was a world-class midfield player who could have walked into the Bernabeu, but had chosen the green & white hoops in the Eastend of Glasgow. Why? He used the "B" word. A word I never heard him use about United or Old Trafford.
The sense of belonging Keane undoubtedly already feels at Celtic is affection for an Irishness that has West Brits like David McWilliams sneering from their boardrooms.
I grew up on the slopes of the old Celtic Park watching midfield generals dispensing retribution and directing traffic towards the away goal being defended by the cream of Europe.
Not since Bobby Murdoch and Bertie Auld has Celtic had a midfield presence to compare with Keano.
Barrowfield Training Park will be his place of work for the next 18 months as a player. It is not the palatial facility he has been used to in England. However, that did not stop Keano of Saipan from signing on the dotted line.
In an age of Premiership prima donnas it was said that (1) Keane wouldn't sign on for the salary Celtic could pay him. (2) If he did sign his salary would be paid by Dermot Desmond Celtic's main shareholder.
Not for the first time the Scottish pundits got a major football story 180 degrees out this year.
Keane signed for Celtic because he wants to be a Celtic player. Full stop. Period. End of analysis. The reality that cannot speak its name in Scottish sporting media circles is that Celtic is, at its heart, an Irish club.
Take the Irishness out of Celtic and it stops being Celtic. That is a project long cherished by the hatchet-faced DUP clones that run Scotland.
Roy Keane, as ever driven by a manic perfectionism, is now playing for the jersey of his boyhood team. This is something that opponents are not looking forward to, but I am.
At the press conference he also let the assembled throng of hacks know that he wasn't in Glasgow for financial reasons, nor was he on an ego trip nor was he at Celtic to "unwind". Then he said: "I feel this is where I belong."
Today he walked out at the start of Celtic's game against Livingston. He said no words despite being handed the mike. He waved and smiled.
He knows and we know that he will communicate his affection for Celtic on the pitch in the typical Roy Keane fashion way from now on.
Midfielders all over the Scottish Premier League should really get their sick notes ready now.
Happy New Year Roy and welcome home — you're among the Rebels now!
An Phoblacht Magazine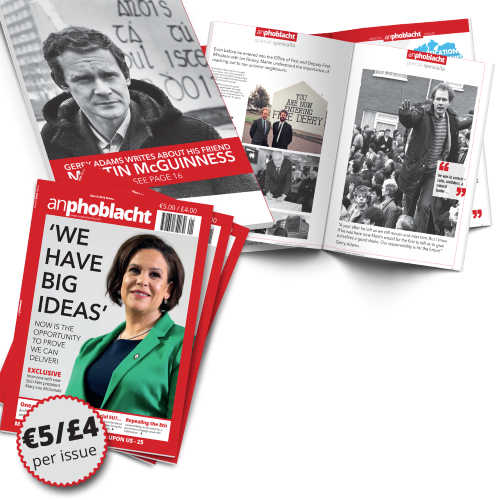 AN PHOBLACHT MAGAZINE:
The first edition of this new magazine will feature a 10 page special on the life and legacy of our leader Martin McGuinness to mark the first anniversary of his untimely passing.
It will include a personal reminiscence by Gerry Adams and contributions from the McGuinness family.
There will also be an exclusive interview with our new Uachtarán Mary Lou McDonald.
test