5 January 2006 Edition
Donaldson admits role as British agent
BY LAURA FRIEL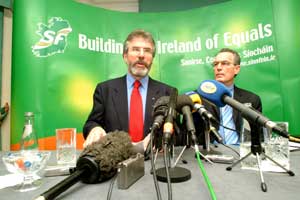 Exposed: British agent admits republican spy ring was a fiction
Addressing a packed press conference in Dublin on 16 December, Sinn Féin President Gerry Adams announced that Sinn Féin's Head of Administration at Stormont Denis Donaldson had admitted to working as a paid British agent for 20 years. Donaldson made his confession after being visited by the PSNI earlier in the week claiming his cover had been blown and that he was to be exposed as an informer.
Donaldson subsequently met two Sinn Féin officials at the party's Falls Road offices where he admitted working as a paid informer for the British state for the past two decades.
"I was very, very suspicious when the events of 2002 unfolded, when we saw this hugely orchestrated operation up at Stormont because we knew that there was no Sinn Féin spy ring in Stormont," Adams told the media.
"When I saw people getting arrested and charged, I knew instinctively that there was something wrong. More recently, when this case collapsed, when the British did not proceed, that suspicion deepened," said Adams.
Adams said it was around this time that Denis Donaldson was approached by the PSNI and informed that his life was in danger and that he was going to be outed as a British agent. "This was within the last three or four days," said Adams.
"Denis Donaldson went to the Chairperson of our Six County Cúige and said to him 'the police were at my door, they told me that my life is in danger'. He was advised by our Chairperson to get in touch with a solicitor," said Adams.
"I instructed two party members to see Denis and ask him if there was any truth to this allegation that he was an informer. He was interviewed in Sinn Féin offices in Belfast and admitted he worked for the British as an agent. He was advised to get a solicitor and dismissed from the party," said Adams.
Denis Donaldson (55) came from the republican Short Strand area of East Belfast and served time as a republican prisoner in the 1970's. In 1983 he stood as a Sinn Fein candidate for Belfast City Council. In 1998 Donaldson was appointed Sinn Fein's Head of Administration at Stormont.
Stormontgate exposed further
Speaking to RTE on 17 December, Denis Donaldson publicly admitted he worked as a British agent for more than 20 years. He confirmed he worked for RUC and PSNI Special Branch as well as British Intelligence as a paid informer. Donaldson also admitted that claims of republicans operating a spy ring at Stormont were false.
"I was not involved in any republican spy ring in Stormont. The so-called Stormontgate affair was a scam and a fiction, it never existed, it was created by Special Branch," said Donaldson.
"I deeply regret my activities with British Intelligence and RUC/PSNI Special Branch. I apologise to anyone who has suffered as a result of my activities as well as to my former comrades and especially to my family who have become victims in all of this," Donaldson said.
Speaking during an EU summit in Brussels Taoiseach Bertie Ahern expressed his bewilderment. Ahern said he had always been "totally sceptical" about the Stormontgate affair.
"It never added up," said Ahern. Commenting on the staged nature of the Stormont raid in 2002, the Taoiseach recalled the bizarre images of, "the storm troopers charging up the stairs with heavy armoury to collect a few files."
"Last week when I asked Tony Blair why did the trial of the three men charged collapse, he couldn't understand it either. I've never been happy with it. And it created enormous grief for us because all the institutions were brought down, it created huge difficulties," said Ahern.
Stormontgate was "a huge case" said Ahern, "it doesn't get bigger than bringing down democratically elected institutions."
Hain rules out inquiry
Irish Foreign Minister Dermot Ahern called on the British government to make public as much information as possible following a meeting with British Secretary of State Peter Hain. "The public needs to be told as much as possible," said the Irish Minister.
Responding to a question in the House of Commons, Blair admitted "it would be helpful if we were to give more information but it can only be done if the consent of the proper authorities is given," said Blair.
Meanwhile British Secretary of State, Peter Hain ruled out any public inquiry into the affair.
Commenting after meeting Peter Hain, Sinn Féin's Martin McGuinness said it was time for the British to answer questions about their agents, and about their approach to the peace process.
"We are calling on them to declare that their war against republicans and the peace process is finally over," said McGuinness.
McGuinness said there was a determination within Sinn Fein to move forward beyond the controversy of the last few days and challenge others to accept their responsibilities in moving the peace process forward.
"Republicans are obviously very disappointed that someone like Denis Donaldson would effectively betray his community and betray republicanism in the way he did," said McGuinness.
"I am around the struggle long enough to know that you always work on the basis that opponents of the process will continue to try to undermine those who are spearheading the struggle to bring about fundamental change in our society."
"You would be very foolish to ignore the possibility that the British have got agents working throughout the entire process. But equally I know that for every informer or agent, there are thousands of people who aren't," said McGuinness.
Media speculation
McGuinness dismissed media speculation about the level of British infiltration. If it were true, republicanism would have been defeated long ago. The fact that Republicanism remains a vibrant and growing political force "clearly shows that these people haven't the level of infiltration that they would like to have within the leadership and generally throughout Sinn Féin's organisation," said McGuinness.
Sinn Féin President Gerry Adams said elements within the British system have been involved for many years in a planned systematic campaign to undermine the peace process.
"The onus to stop this lies with the British government. It has to take whatever steps are necessary to rein in the wreckers, who are opposing British government policy. There has to be an end to political policing," said Adams.
"If we are really in a process in which everyone is committed to purely peaceful and democratic means then that must also apply to the British system. If the war is over for the British government then it has to end the activities of elements in its own system," said Adams.