5 January 2006 Edition
Editorial
This year is a vital one for the Irish Peace Process. Republicans took huge initiatives during 2005 to contribute yet again to the process and enhance further the prospect for political progress. The issue of republican arms has now been resolved. The IRA has delivered.
A genuine effort is now needed to end the political stalemate of recent years.
The spotlight must now be on the attitude of the unionist political leadership, currently represented by the Democratic Unionist Party. Throughout political negotiations in 2004 DUP leader Ian Paisley made it very clear to both governments that if the issue of IRA arms was resolved, he would lead his party into a power-sharing government with Irish republicans. The political pressure for Paisley to honour his commitments must surely increase in the weeks ahead.
It is important now that the Irish and British Governments begin to explain their plan for getting the DUP to come on board the project of restoring the institutions of the Good Friday Agreement.
Recent events have exposed again the malign influence of British spies and securocrats on the political process. These forces are the enemies of Irish democracy and of the Peace Process. They will continue with their dirty work in the time ahead unless they are reined in by those who have responsibility for them. In this regard the book stops with British Prime Minister Tony Blair. He must make it clear to his government's secret agencies that their activities in Ireland must now come to an end.
Republicans will face into 2006 with much hope and expectation for political progress towards the goals of peace and justice in Ireland. Our struggle is strong, united and confident. Sinn Féin's political and electoral strength continues to grow North and South.
This year will see republicans throughout Ireland commemorate the 25th anniversary of the 1981 Hunger Strikes and the 90th anniversary of the 1916 Rising. These anniversaries of major milestones in our struggle should give Sinn Féin activists the opportunity to further the popularisation of Irish republicanism throughout the 32 Counties, bringing closer the realisation of the objectives for which many of those we commemorate paid the ultimate sacrifice.
An Phoblacht Magazine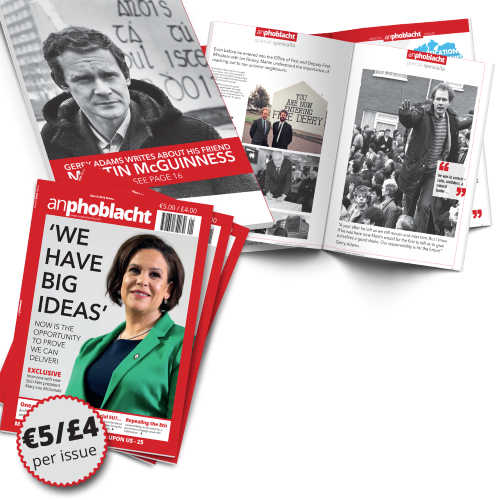 AN PHOBLACHT MAGAZINE:
The first edition of this new magazine will feature a 10 page special on the life and legacy of our leader Martin McGuinness to mark the first anniversary of his untimely passing.
It will include a personal reminiscence by Gerry Adams and contributions from the McGuinness family.
There will also be an exclusive interview with our new Uachtarán Mary Lou McDonald.
test