8 December 2005 Edition
Dúirt Siad...
The shambolic PSNI investigation into the Northern Bank robbery is nothing more than we expect from a force which continues to know much about politics and militarism, but precious little about efficient, modern policing methods.
Andersontown News, Monday 5 December.
This was complete overkill. There was something sinister in their gung-ho approach.
Vice Chair of the County Antrim GAA Board, Gerry McClory, criticising the PSNI swoop on Casement Park in Belfast on Monday morning. the PSNI claimed they were looking for evidence in connection with the Northern Bank robbery. Daily Ireland, Tuesday 6 December.
I think it is intrinsically homophobic. I think it is a slap in the face for all normal Gay clergy who have served the Catholic Church well over the past centuries.
Brian Finnegan, editor of Gay Community News, commenting on the Vatican's move to bar men with homosexual tendencies from becoming priests.
Some people don't like the drink and the drugs, the constant camera surveillance and the possibility of bullying or theft, so they prefer to sleep rough.
Mark Grehan, of homelessness organisation Street Seen, saying some homeless people believe it is safer to sleep on the street than in a hostel.
It would be more productive for Sinn Féin's backroom people to put as much effort into answering genuine questions as they spend asking pointless questions.
Gun-toting 26-County Defence Minister Willie O'Dea gets annoyed when Sinn Féin spokesperson for Justice Aengus Ó Snodaigh queries the workings of his department. The Irish Independent, Monday 5 December.
An Phoblacht Magazine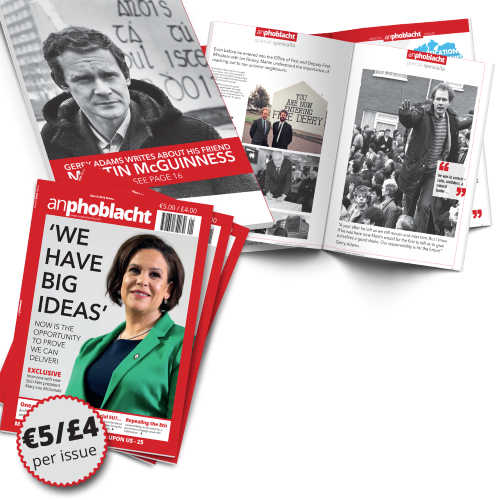 AN PHOBLACHT MAGAZINE:
The first edition of this new magazine will feature a 10 page special on the life and legacy of our leader Martin McGuinness to mark the first anniversary of his untimely passing.
It will include a personal reminiscence by Gerry Adams and contributions from the McGuinness family.
There will also be an exclusive interview with our new Uachtarán Mary Lou McDonald.
test