8 December 2005 Edition
New cards profile women republicans: Mná na hÉireann - Unfinished Revolution
BY JOANNE CORCORAN
With Sinn Féin's Céad Bliain year coming to a close the party has produced a set of limited edition cards honouring republican women. The Mná na hÉireann — Unfinished Revolution cards, which resemble playing cards, show photos of women from 1798 through to the present day who have contributed to the cause of Irish freedom, accompanied by their biographies.
Caitríona Ruane, who took charge of the Céad Bliain Committee in 2004 says she got the idea for the cards after a trip to America. "I was in the US a couple of years ago and picked up two sets of cards produced by the Library of Congress, paying tribute to great African-Americans and 'Women who Dare'," she told An Phoblacht this week.
"A while after that, myself and Mary Lou McDonald organised a women's conference in Down and used the women's cards as discussion points for speakers. Following that conference we thought the card idea would provide an excellent vehicle to honour some of the republican women who have given so much to the cause over the last few centuries."
Carol Jackson of the Céad Bliain Committee was responsible for the production of the cards, with An Phoblacht providing most of the photographs of the women from the paper's extensive archives.
Volume One is due to be launched by Gerry Adams and Caitríona Ruane on 12 December at 12pm in the Culturlánn in West Belfast. A launch with Mary Lou McDonald in Dublin will take place at a later date.
Among the 48 women honoured in the first volume are Síghle Humphreys (1899-1994), who participated in the Civil War, and spent the rest of her life fighting for republican causes; Sheena Campbell (1962-1992), who was instrumental in developing Sinn Féin's electoral strategy until she was murdered by the UVF; Máire Comerford (1893-1982), a prominent member of the Anti-Partition League; Kathleen Largey (1943-1979), a ballad singer who invested her time in prisoner welfare and Annie-Mary Burke Gildernew (1918-1998), a life-long republican best known for the squat in 9 Kinnaird Park, Caledon, Tyrone, which eventually led to the first civil rights march.
"Some of the women we have honoured are very well-known, like Máire Drumm, Mairéad Farrell and Countess Markievicz," Ruane says. "But there are many there, like Sidney Gifford Czira, Ethel Lynch, Bridie Dolan and Anne Parker, who were incredible women and committed republicans, but probably aren't spoken about as much as they should be. These cards are about reclaiming those women and letting people know what they did."
Ruane is aware that 48 cards aren't sufficient to honour all the women who have fought for republicanism and says this is why the party hopes to produce more volumes in the coming years.
The cards can be purchased from the Sinn Féin bookshop for £10/€15 in the run-up to Christmas and will make ideal keepsakes from the Sinn Féin Céad Bliain year.
An Phoblacht Magazine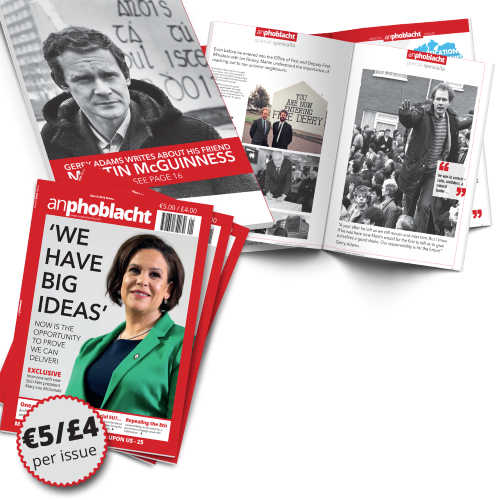 AN PHOBLACHT MAGAZINE:
The first edition of this new magazine will feature a 10 page special on the life and legacy of our leader Martin McGuinness to mark the first anniversary of his untimely passing.
It will include a personal reminiscence by Gerry Adams and contributions from the McGuinness family.
There will also be an exclusive interview with our new Uachtarán Mary Lou McDonald.
test