1 December 2005 Edition
Freedom struggle is right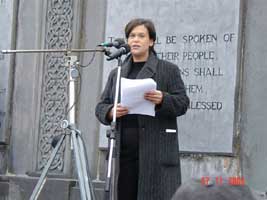 Kilmichael Commemoration - Mary Lou McDonald addresses huge crowd
Sinn Féin Chairperson Mary Lou McDonald MEP addressed this year's Kilmicheal commemorations in West Cork. Despite the cold weather, a huge crowd turned out on the remote spot where Tom Barry successfully lead his Flying Column into one of the first major engagements of the war against crown forces in 1920.
"We are here pay tribute to the sacrifice of those who lost their lives on that November day in 1920. But let us do more than that. Let us never forget that these men fought for a 32-County Republic. As long as the crime of partition remains, as long as Britain holds jurisdiction over part of our country then the task for Irish republicans remains great.
"The IRA decisions earlier this year provide both challenges and opportunities for many people. Unionism has lost its excuse for non-engagement and the British Government has lost its excuse for failing to deliver key elements of the Good Friday Agreement.
"But more importantly for Irish republicans and nationalists — for those of us who want to see an end to British rule and the establishment of the Republic it provides an opportunity to build new alliances, to devise and develop new strategies and shared positions and to drive forward the united Ireland agenda in the time ahead.
"There is space for everyone on the ground of Irish republican politics and plenty more work to be done. Irish unity will come about much more speedily if we can build a broad-based coalition to end partition and create an Ireland of Equals.
"Such a coalition needs to be built on the realisation that partition has failed — and failed miserably. Sinn Féin cannot do this on our own. Irish freedom and Irish unity is too big a job to be delivered and undertaken by one party.
"Let all of us redouble our efforts in the coming period. Republicanism is not a spectator sport. It is activist led and activist driven. Freedom struggles are not easy, Kilmichael is a testament to that, but as Booby Sands wrote in his H-Block cell 60 years after Kilmichael, this freedom struggle is right."