1 December 2005 Edition
Dúirt Siad...
There's no more that we can do.
Taoiseach Bertie Ahern claiming his government couldn't prevent Irish Ferries' outsourcing plan. The Irish Times, Saturday 26 November.
One of the most blatant examples of political policing seen here in recent times.
Martin McGuinness on the arrest of Francie Brolly on Tuesday 29 November.
This is an issue that has to be dealt with and completed. We allowed out all the prisoners 71⁄2 years ago.
Taoiseach Bertie Ahern responds to Fine Gael leader Enda Kenny's criticism of the 26-County Government's plans for OTRs. Irish Independent, Tuesday 29 November.
Ian and I always pray for our enemies. I'll ask that God will show Gerry Adams and Martin McGuinness his way and that they'll ask for forgiveness.
Eileen Paisley, wife of Ian, is a compassionate woman. Interview in the Sunday Tribune, 27 November.
Is the Corrib project another space shuttle rushing to launch at all costs without listening to reason about a flawed initial design or routing approach?
A report by the Centre for Public Inquiry expresses misgivings over the controversial Corrib pipeline. Tuesday 22 November.
It is unacceptable that in all other local authority accommodation residents are provided with smoke alarms of the highest standard yet Travellers still live in fear of fires in their homes.
Dublin Sinn Féin Councillor Daithí Doolan calls for fire alarms in all caravans in halting sites after the death of two young in Clondalkin last week. Monday 28 November
An Phoblacht Magazine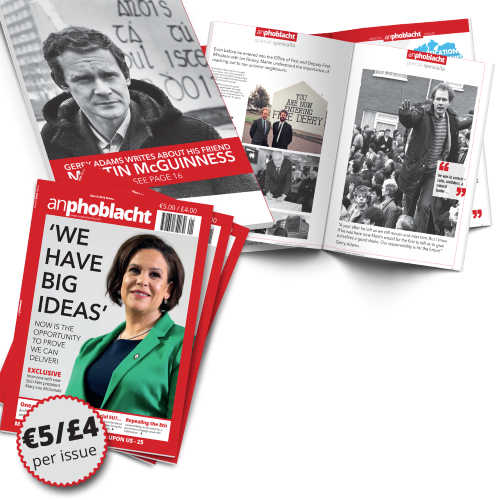 AN PHOBLACHT MAGAZINE:
The first edition of this new magazine will feature a 10 page special on the life and legacy of our leader Martin McGuinness to mark the first anniversary of his untimely passing.
It will include a personal reminiscence by Gerry Adams and contributions from the McGuinness family.
There will also be an exclusive interview with our new Uachtarán Mary Lou McDonald.
test